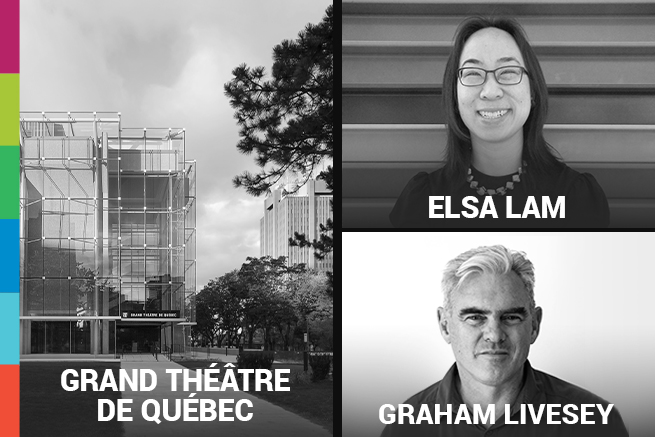 OTTAWA April 27, 2021–The RAIC is proud to announce the recipients of the Innovation in Architecture Award and the President's Award for Multimedia Representations of Architecture for 2021. These awards are presented on a biannual basis as part of the RAIC Awards of Excellence program. 
Innovation in Architecture
This award is to recognize excellence in architectural innovation, including the research and development and the applied use of new technology; unique adaptation of existing technology; new project delivery methods; new design processes; new details; or the development of new methods related to the construction process. 
Innovations cover a wider range of architectural endeavors including, but not limited to Management, Project Delivery, Energy, or Building Envelope. The award is intended to recognize skill and innovation in technology, project delivery, building science, practice of architecture and social innovation. 
Medal Recipient: Grand Théâtre de Québec Refurbishment
Architects: Lemay / Atelier21 
Client: Société du Grand Théâtre de Québec 
Completion: 2020 
Québec, QC 
The refurbishment of the Grand Théâtre de Québec's envelope required consideration of its two defining components: its brutalist architecture by Victor Prus and an integrated sculptural mural by Jordi Bonet. Indeed, the existing building's prefabricated concrete envelope had significant condensation and rust issues.  
Having to transform a heritage icon required a creative and sensitive approach from the Lemay/Atelier 21 team. The new transparent outer shell fades, disappears, reflects, illuminates. Beyond its primary function of creating a weather-protected tempered envelope, the casing acts as an extension of the original building, maintaining design continuity. The solution leaves the landmark intact and perfectly visible.
Comments from the Jury:
The Grand Theatre de Quebec demonstrates a host of notable innovations in the spirit of honouring the original Victor Prus building and sensitively protecting the existing degrading structure and Jordi Bonet mural. The new glass casing is quiet and understated, with a technical rigour that speaks to what must have been remarkable teamwork between the architects, engineers, and manufacturers. It skillfully addresses the challenges faced by the concrete façades and unique interior sculptural murals by developing from the exterior a meticulous envelope system and creating an in-between controlled environment. The team's choices throughout the process demonstrate how intelligent, quiet innovations can significantly extend the life of public buildings for the betterment of the community, climate, and environment.
Innovation in Architecture Jury:
Pat Hanson, FRAIC 
Principal and founding partner of gh3* 
Toronto, ON  
Michael Green, FRAIC 
Principal, MGA | MICHAEL GREEN ARCHITECTURE A Katerra Design Partner 
Vancouver, BC 
Leila Farah, PhD, Associate Professor 
Department of Architectural Science, Faculty of Engineering and Architectural Science at Ryerson University 
Toronto, ON 
President's Award for Multimedia Representations of Architecture
This award recognizes a narrative about buildings and cities that promotes the publics understanding of architecture and the role of architects. The entry must be a body of work. 
Medal Recipient: Canadian Modern Architecture: 1967 to the Present
Elsa Lam (Editor), Graham Livesey (Editor) 
Published: 2019 
Toronto, ON 
 
The book Canadian Modern Architecture: 1967 to the Present is co-published by Princeton Architectural Press and Canadian Architect magazine.  
Canadian Modern Architecture: 1967 to the Present, is a far-reaching review of major work in this county. It includes 15 original essays by authors including George Baird (FRAIC), Brian Carter, (Hon. FRAIC), Ian Chodikoff (FRAIC), Odile Hénault, George Kapelos (FRAIC), Lisa Landrum (FRAIC), Steven Mannell (FRAIC), Sherry McKay, Marco Polo (FRAIC), Colin Ripley (MRAIC), Lola Sheppard, David Theodore (MRAIC), Larry Wayne Richards (FRAIC), Adele Weder (Hon. MRAIC) and Mason White (MRAIC). It is illustrated with 500 photographs and drawings.  
The 50-year retrospective begins with the nation's centennial and Expo 67 in Montreal. It covers the defining of national institutions and movements, how Canadian architects interpreted major international trends, regional and Indigenous architectural tendencies, and the influence of architects in Canada's three largest cities—Toronto, Montreal, and Vancouver.  
 
Comments from the Jury:
The book "Canadian Modern Architecture: 1967 to Present" is a body of work representing Canadian Architecture from coast to coast diligently and completely compiled into one superb anthology. It is a timely piece that may take decades to replicate and or replace. In 15 chapters, these authors clearly explain the themes and regional trends that have shaped the country's built form in this period – a period in which, as the editors suggest, a truly Canadian architecture was born for the first time. This assembly of expertise and regional knowledge allows the book to provide a depth of insight that no one individual could offer. Canadian Modern Architecture: 1967 to Present is a body of work whose diversity and variety are entirely Canadian.  
President's Award for Multimedia Representations of Architecture Jury: 
Michael Cox, PP/FRAIC  
Michael J. Cox, Architect 
Brandon, MB 
Wayne De Angelis, PP/FRAIC  
De Angelis Architecture 
Vancouver, BC 
Alex Bozikovic 
Architecture Critic, The Globe and Mail  
Toronto, ON 
 
About the RAIC
The Royal Architectural Institute of Canada (RAIC) is a not-for-profit, national organization that has represented architects and architecture for over 100 years, in existence since 1907. The RAIC is the leading voice for excellence in the built environment in Canada, demonstrating how design enhances the quality of life, while addressing important issues of society through responsible architecture. The RAIC's mission is to promote excellence in the built environment and to advocate for responsible architecture. The organization national office is based in Ottawa with a growing federated chapter model. Current chapters and networks are based in British Columbia, Alberta and Nova Scotia.