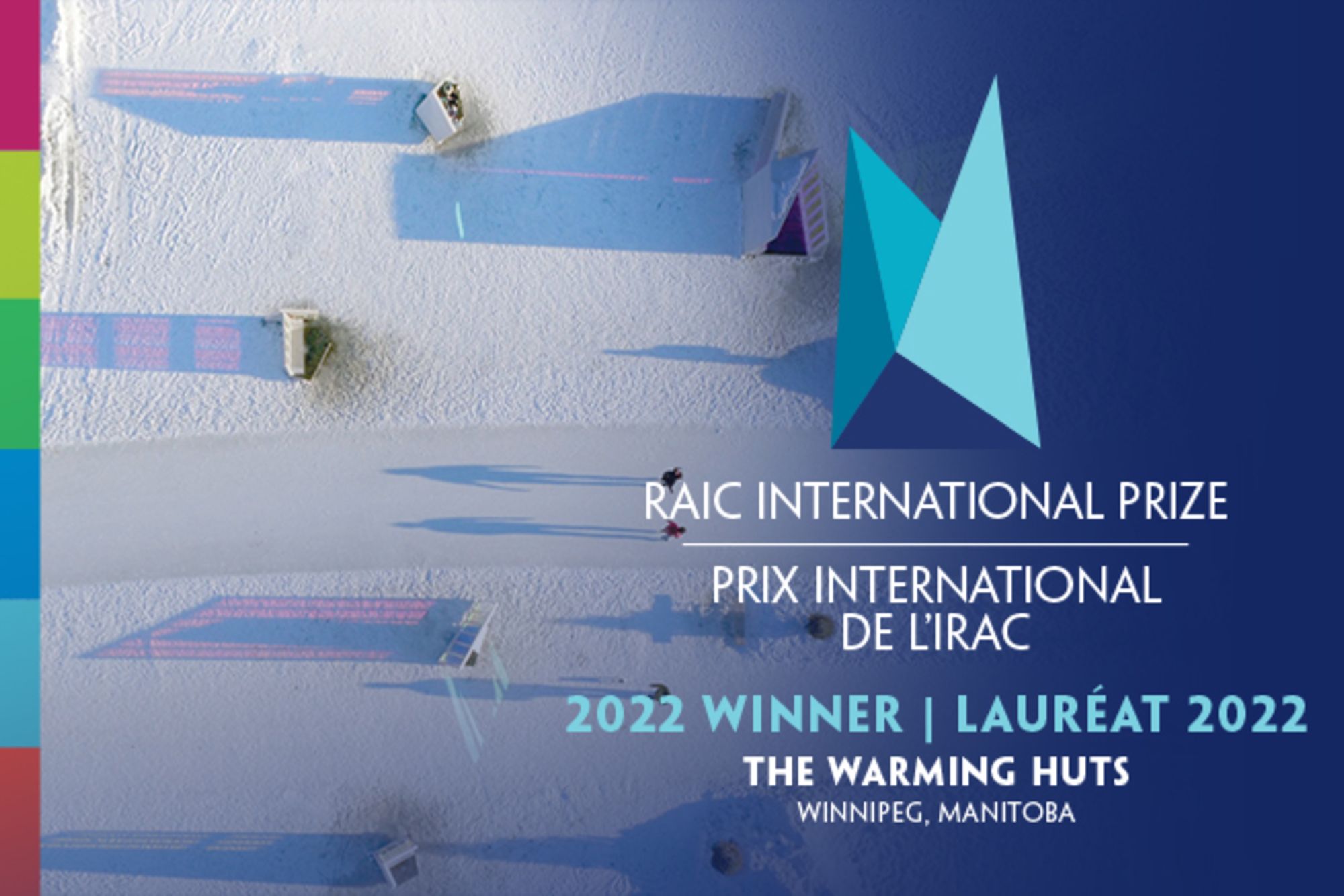 FOR IMMEDIATE RELEASE
OTTAWA, September 22, 2022 - The Royal Architectural Institute of Canada (RAIC) is pleased to announce that the 2022 RAIC International Prize will be awarded to The Warming Huts, Winnipeg, Manitoba. The architecture firm behind the project is Sputnik Architecture Inc, Winnipeg, leader of a consulting team that includes Engineers Crosier, Kilgour & Partners, Specialist Consultant Luca Roncoroni, the Forks Renewal Corporation, and a host of other collaborators.
The Warming Huts are the product of a recurring exercise in design and construction that takes place on the frozen rivers of Winnipeg every winter. Playful but significant as works of architecture, they have been created over more than a decade with the support of hundreds of collaborators, both local and international. Conceived, coordinated and often constructed by members of Sputnik Architecture, the Warming Huts are episodic and transformative, linking parts of a city divided by waterways, creating spaces of encounter and exchange, and reconnecting citizens to healthy lifestyles and the history of place. It is a wondrous celebration of winter that engages Winnipeg's design community and draws the eyes of the world to a small city punching above its weight in its commitment to place-making and city-building.
A detailed description of the project, jury comments and a more complete list of the dozens of architects, designers and builders who have collaborated on the exercise since its inception in February 2010 can be found here. 
The Warming Huts were selected by a nine-member jury in a process that included site visits by representatives of the jury to each of the three shortlisted projects. The shortlisted projects included, in addition to the Warming Huts, two other buildings:
Borden Park Natural Swimming Pool, Edmonton, Alberta
Architects: gh3* 
Stade de Soccer de Montréal, Montreal, Quebec 
Architects: Saucier+Perrotte / HCMA Architects in joint venture
 
A sculpture created for the RAIC International Prize by Canadian designer Wei Yew will be presented to the winners in the RAIC Celebration of Excellence, an awards ceremony and gala that will take place in May 2023 during the RAIC Conference on Architecture in Calgary, AB.
****************************************
The 2022 RAIC International Prize represents the 4th edition of the Prize. The Prize was established in 2013 by Canadian architect Raymond Moriyama in collaboration with the RAIC and the RAIC Foundation and was originally called the Moriyama RAIC International Prize.
 
The Prize is open to all architects, irrespective of nationality and location, and celebrates a single work of architecture that is judged to be transformative within its societal context and expressive of the humanistic values of justice, respect, equality, and inclusiveness. 
 
The jury for the 2022 RAIC International Prize consisted of:
Susan Ruptash, FRAIC, Jury Chair, Principal Emerita, BDP Quadrangle  
Farida Abu-Bakare, MRAIC, Project Director, Accra, Adjaye Associates  
Amale Andraos, Hon. FRAIC, Co-founder of WORKac  
Peter Busby, FRAIC, Global Design Principal, Perkins & Will  
WH Vivian Lee, Director, M. Arch. Program, Daniels Faculty of Architecture, Landscape, and Design, University of Toronto
Diarmuid Nash, PP/FRAIC, Partner, MORIYAMA & TESHIMA ARCHITECTS  
Sasa Radulovic, FRAIC, Co-founding Partner, 5468796 Architecture  
Talbot Sweetapple, FRAIC, Partner, MacKay-Lyons Sweetapple Architects  
Alfred Waugh, MRAIC, Owner | Principal, FORMLINE ARCHITECTURE
 
The work of the jury was supported by the invaluable contributions of jury member Diarmuid Nash and former International Prize jury members Maxime Frappier FRAIC and Barry Johns FRAIC, who planned and carried out the site visits to the shortlisted projects.     
 
****************************************
In addition to the RAIC International Prize, three RAIC International Prize Scholarships of $5,000 and three Certificates of Merit were awarded to students in Canadian schools of architecture on the basis of a written essay exploring the question "How can architecture be transformative?" Read more about the recipients and jury here.
David Covo FRAIC OAQ served as the Professional Advisor for both the International Prize and the International Prize Scholarships. Administrative support and historical background was provided by Chantal Charbonneau (Vice President of Member Engagement) and Amanda Shore (RAIC Honours and Awards Manager).
For questions on inquiries:    
RAIC Communications
communications@raic.org