As a step along the path to Reconciliation, RAIC commemorated this year's National Day for Truth and Reconciliation through a series of events during the week of September 26-30, 2022.
The RAIC Indigenous Task Force (ITF) and Truth and Reconciliation Task Force presented sessions by the RAIC's Indigenous education provider NVision, as well as stories and truths from ITF Members. 
The goal of these virtual sessions was to provide both educational and personal insights into the atrocities that took place in Canada's Residential and Day Schools, and the lasting, inter-generational trauma that continues to this day. The sessions are intended to build awareness, compassion, and understanding in the architectural community as it relates to the history of Residential and Day Schools and the impact they have had and continue to have on First Nations, Metis, and Inuit communities.
The sessions were open to all.  
September 26 – 2:00 to 3:30 p.m. ET
Opening Remarks
The Truth and Reconciliation Commission: History and Context - Presented by NVision 
 
September 27 – 2:00 to 3:00 p.m. ET
History of Residential and Day Schools - Presented by NVision 
 
September 28 – 2:00 to 3:30 p.m. ET
Our Stories – Part 1 - Presented by the RAIC ITF 
 
September 29 – 11:00 a.m. to 12:30 p.m. ET
Our Stories – Part 2 - Presented by the RAIC ITF 
 
September 30 – National Day for Truth and Reconciliation / Orange Shirt Day – Every Child Matters
(Federal statutory holiday – RAIC office closed for reflection and commemoration) 
The RAIC realizes that these events may be distressing and awaken memories of past traumatic experiences and abuse. The National Indian Residential School Crisis Line provides 24-hour crisis support to former Indian Residential School students and their families toll-free at 1-866-925-4419. Further support can be found here.  
 
These commemoration activities were made possible [in part] by the Government of Canada.
Every Child Matters Design Attribution: Patrick Stewart and Cory Lavallee (2020)
 
About the National Day for Truth and Reconciliation 
September 30, 2021, marked the first National Day for Truth and Reconciliation.
The day honours the lost children and Survivors of residential schools, their families and communities. Public commemoration of the tragic and painful history and ongoing impacts of residential schools is a vital component of the reconciliation process.
The creation of this federal statutory holiday was through legislative amendments made by Parliament. On June 3, 2021, Bill C-5, An Act to amend the Bills of Exchange Act, the Interpretation Act and the Canada Labour Code (National Day for Truth and Reconciliation) received Royal Assent.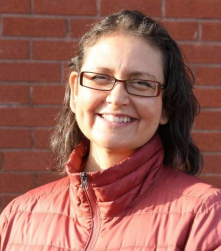 Facilitator Jennifer David
Jennifer has worked in the field of Indigenous communications and consulting for 25 years. Prior to consulting, Jennifer was the Director of Communications for the Aboriginal Peoples Television Network. She started her own communications consulting company as a youth entrepreneur. A member of Chapleau Cree First Nation, Jennifer is of mixed ancestry and was born and raised in Omushkego/Treaty 9 territory (Northeastern Ontario). Jennifer has degrees in Journalism and English literature from Carleton University. In 2003, Jennifer became a partner and is currently a Senior Consultant and President of the Board of Directors of NVision Insight Group, a majority Indigenous-owned consulting company. She manages the development and offerings of NVision's suite of cultural awareness and cultural competency courses called The Path.
As a skilled and experienced communicator, researcher, published writer and facilitator, Jennifer brings energy, creativity and professionalism to every project, driven by her commitment to the promotion of Indigenous communities and cultures, and to amplifying Indigenous voices. She sits on several Boards that support the Indigenous community and writes freelance articles on Indigenous art for the National Gallery of Canada magazine. She is married and a mom of two teens. In her spare time, she's a voracious reader of Indigenous literature and co-hosts a podcast called Storykeepers: Let's Talk Indigenous Books.