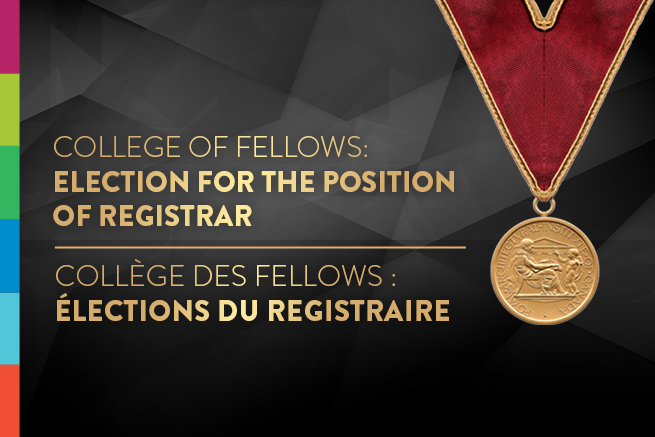 The process has begun to elect the next Registrar of the RAIC College. The selection period runs for thirty (30) days and uses electronic ballots. 
A personalized link to the electronic ballots will be emailed to eligible voters on Wednesday, April 20, 2022. They must be completed and submitted by May 20th, 2022 at 8:00 p.m. EST.
Voting Instructions  
Each ballot link is unique and only valid for one vote. You must be logged in to your RAIC account to confirm your vote. You may exit the page and return later, but once you have clicked confirm your vote will be cast. The system will not allow you to cast additional votes or forward the link to other people once you have submitted your vote. Voting is confidential; names, email addresses, and IP addresses will not be recorded and, as such, are not included in the survey results.
If you do not receive your ballot, please check your email account's Spam or Junk folder to ensure the message was not filtered. The email will be sent from ashore@raic.org. If you still cannot find it, please email Amanda Shore (ashore@raic.org), and we will make sure you receive your ballot.
Physical ballots can be made available upon request by contacting Amanda Shore at 1-613-241-3600 x 2015. 
Candidate Statements
Yew-Thong Leong, OAA, FRAIC, FIIAS
I joined the RAIC the moment I gained licensure, as I view the RAIC as an august institution and as the only national institution that truly represents Canadian architects within and outside Canada. Representation gives architects agency, and this representation must occur at every level within the RAIC, but specifically at the College of Fellows. The Fellowship represents the highest level of recognition accorded to a Canadian architect and I sincerely believe that the Officers of the College should share a vision to ensure Fellows – particularly those from a marginalized community - are always and routinely recognized and promoted in society and industry. This should happen during Convocation, amidst the pomp and circumstance, as that would be the occasion for more Fellows to come out and be further recognized, rather than just once during their original investiture. I have served as a Treasurer, Vice-Chair and the Millennium Chair of the Toronto Society of Architects, awarded the Toronto Arts and Letters Club Membership in Architecture, served on various OAA committees, sat on the Editorial Committee of the CHOP and spoken at AAA, OAA, RAIC conferences. I have a private practice and I am a professor at Ryerson University.
Lisa Medek, Architect OAA OAQ FRAIC
Liza Medek is an experienced professional with a diverse history working as an architect, planner, project manager, academic administrator, educator and industrial technology advisor. She is skilled in architecture, urban planning, construction, sustainable design, and research. Liza is committed to educating the public to improve their knowledge of the built environment and strongly stands behind the words: Architecture Matters. By empowering Canadians, as well as architects, with the knowledge of RAIC's core values: Integrity, Climate Action, Reconciliation, Social Justice, Innovation and more, she strongly believes this will result in an enhanced quality of life for all. Liza's volunteer commitments reflect her passion to engage the architectural community with the tools and resources to help improve and promote architectural practice. Some of Liza's current and previous appointments include: Advisory Council: Algonquin College's Architectural Technology Program; Ottawa Hunt and Golf Club - Master Plan Committee; Canadians for Properly Built Homes; City of Ottawa Door Open; Chairman and member: OAA Honor and Awards Committee; Director, mentor and guest critic: RAIC Syllabus;  Associate Research Professor: Carleton University;  President: Building Envelope Council Ottawa Region; Chair: Ottawa Regional Society of Architecture. Liza is a graduate of McGill University with a B. Sc. Arch., M. B. Arch. and M. Arch. She is licensed in Ontario, holds a Secret Clearance Level II and is an RAIC Fellow.