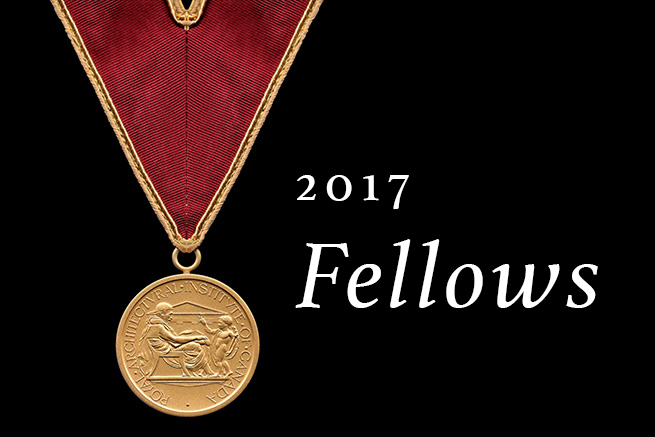 OTTAWA, May 16, 2017 – A designer of the Vancouver SkyTrain; a Toronto living wall pioneer; a Montreal expert on heritage materials conservation; and two Winnipeg architects reimagining their city are among the Canadian architects to be named 2017 Fellows.
The College of Fellows of the Royal Architectural Institute of Canada (RAIC) bestows Fellowship in recognition of outstanding achievement. Criteria include design excellence, exceptional scholarly contribution, or distinguished service to the profession or the community.
Representing Canada coast-to-coast, the 37 new Fellows come from Saint John, NB; Halifax, NS; St. John's, NL; Montreal, QC; Brampton, ON; St. Catharines, ON; Toronto, ON; Hamilton, ON; Ottawa, ON; Winnipeg, MB; Saskatoon, SK; Calgary, AB; Edmonton, AB; Vancouver, BC; Burnaby, B.C. and Victoria, BC.
They include:
Alan Hart, of Vancouver and Seattle, whose infrastructure design work includes all phases of the Vancouver SkyTrain system;
Birgit Siber, of Toronto, lead designer of the first large-scale living wall biofilter in Canada at the University of Guelph-Humber;
Giovanni Diodati, of Montréal, whose heritage conservation projects include the West Block of Parliament Hill, McGill University andSir George-Étienne Cartier Monument;
Johanna Hurme and Sasa Radulovic of Winnipeg, co-founders of internationally recognized firm 5468796 Architecture, and leaders in Winnipeg's architecture and design culture.
See the full list below.
Fellows will be inducted at the College of Fellows Convocation, which takes place during the RAIC/OAA Festival of Architecture in Ottawa, May 24-27.
In addition, the College of Fellows will induct three Honourary Fellows:
Jeanne Gang is an American architect and founding principal of Studio Gang, an architecture and urban design practice of nearly 100 people with offices in Chicago and New York. Gang will be giving the keynote address at the convocation ceremony on May 25.
Brian Carter and Annette LeCuyer are authors and professors of architecture at the University of Buffalo. They co-edited issues of the Architectural Review and Architectural Design focusing on contemporary Canadian architecture, and Carter oversaw the publication of books on Canadian architecture by TUNS Press.
Atlantic

 

Ron Fougere

Noel Fowler (deceased)

A. Sandy Gibbons

Douglas G. Steen

 

Quebec

 

Giovanni Diodati

Martin Troy

Andrea Wolff

 

Ontario North and East & Nunavut

 

David Stuart McRobie

 

Ontario Southwest

 

Philip Beesley

James Kenneth Brown

Martin S. Davidson

Harald Bernd Ensslen

Helena Grdadolnik

G. Mitchell Hall

Ross Hanham

Carl A. Knipfel

Susan Spencer Lewin

Birgit Siber

Kim Storey

Alexandru Taranu

 

 

Manitoba

 

Johanna Hurme

David John Kressock

Sasa Radulovic

Peter Sampson

 

Saskatchewan

 

Heney Nicholas Klypak

 

Alberta/NWT

 

 

Carol G. Bélanger

Aziz Bootwala

Catherine Chernoff

Donald Wm. A. Davidson

Andrew King

Peter Osborne

R. Allan Partridge

 

BC/Yukon

David Philip Dove

Alan Hart

Graham McGarva

Catherine Nickerson

Sean Francis Rodrigues

 

 

 
ABOUT THE RAIC
The Royal Architectural Institute of Canada is the leading voice for excellence in the built environment in Canada. Representing about 5,000 members the RAIC advocates for excellence, works to demonstrate how design enhances the quality of life and promotes responsible architecture in addressing important issues of society.