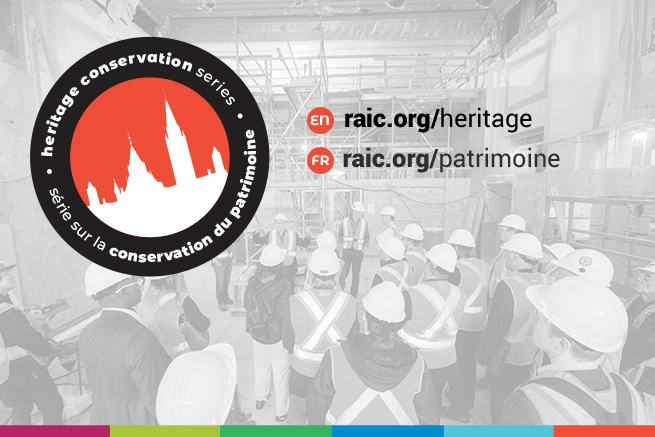 The health, safety, and well-being of our staff, instructors and participants is very important to the RAIC. As such, the RAIC is working diligently to  transition all  Continuing Education events and offerings from now until September 30, 2020  to virtual platforms.  
For questions related to Continuing Education, contact education@raic.org
---
History and the built environment come alive in the exclusive series! The RAIC's Heritage Conservation Series offers participants access to exclusive online learning opportunities and limited-edition workshop experiences. Working in partnership with industry experts, this series explores topics related to the Standards and Guidelines for the Conservation of Historic Places in Canada, emerging technologies and digital tools, and adaptive reuse design strategies specific to heritage conservation.
Enjoy exclusive access to nationally significant sites and world-class resources
Gain skills and confidence in heritage conservation concepts and tools
Access leading experts and knowledge in the field
Network with industry professionals

All RAIC workshops are eligible for continuing education certificates of attendance.    
---
Introduction to the Standards and Guidelines for the Conservation of Historic Places in Canada
More informations coming soon!
---
Past Events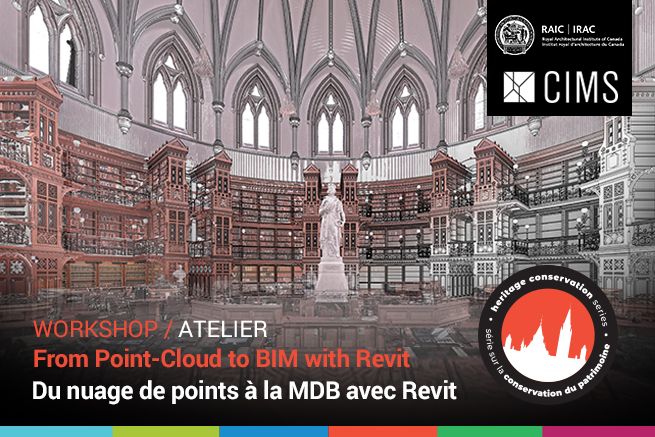 RAIC x CIMS: From Point Cloud to Existing Conditions BIM with Revit
Take advantage of the opportunity to spend a weekend working in the Carleton Immersive Media Studio (CIMS) Lab and learn more about Building Information Modeling (BIM) for Heritage and Existing Conditions (HBIM) from the Winners of the 2018 CanBIM Best in Academic and Best in Innovation Award for the Library of Parliament BIM. This workshop will help participants better understand the complex and unique challenges in managing a BIM project for heritage and existing conditions, including managing large and diverse datasets, file size, and selecting the appropriate level of detail and model tolerance for your project.
Find out how to maximize the efficiency of your project by applying simple fundamental tips for Heritage BIM, and learn hands-on, step-by-step techniques for modelling basic building elements to point cloud data including walls, slabs, windows, and ceilings. The course will include a tour of a designated heritage building with a demonstration of capturing point cloud data with terrestrial laser scanners. Participants will receive an illustrated tutorial outlining all the steps required to model basic building elements from point cloud and will be able to ask instructors questions throughout the training.
The workshop will be provided in English as Carleton University is an English-based institution.
It also includes a 4-hour online pre-learning e-module, designed to ensure participants have a foundational knowledge of the topics and programs to be explored during the in-person workshop experience. A post-workshop online seminar will also be held to further assist participants.