RAIC Foundation Silent Auction
Posted: April 22, 2019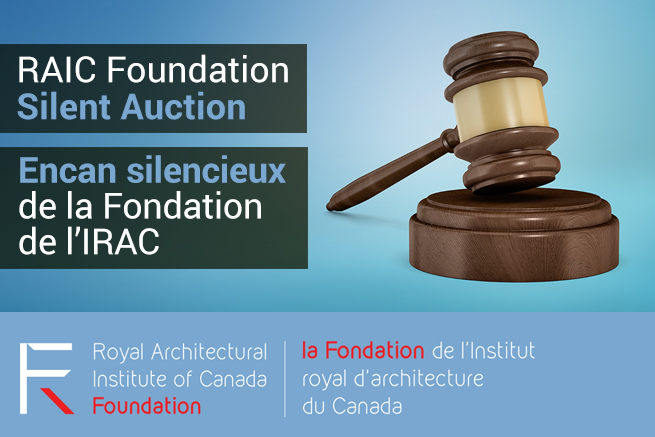 Monday, October 28 – Wednesday, October 30, 2019 at RAIC Festival
Participate in the RAIC Foundation's Silent Auction and help support the next generation of Canadian architects.
The RAIC Foundation will be hosting a silent auction at the 2019 RAIC Festival in Toronto, with successful bidders announced during the Foundation's Fundraising Lunch on Wednesday, October 30, 2019.  Items for auction will be on display at the RAIC booths from October 28 to 30 at the RAIC Festival at the Westin Harbour Castle.
The RAIC Foundation is asking members, firms, suppliers, organizations, and community businesses to help support its scholarships and bursaries by donating items to the auction. These can include:
Event tickets
Restaurant, accommodation, and travel vouchers
Retail gift cards
(Portable) technology
Wine or spirits
Donations to the silent auction are considered charitable donations and are eligible for tax receipts.
Please provide the donor's name, company logo, description, and value of the item. These details will be printed on the bidding sheet for each item and will also be prominently displayed on a large monitor during the auction.
 
Successful bids will be announced at the end of the Foundation Lunch on Wednesday, October 30. All funds raised will go towards the Foundation's general fund.
THANK YOU
When you donate to the RAIC Foundation, you are helping to champion excellence in Canadian architecture by funding projects that support the profession and educate the public about how architecture can improve lives and transform communities.
Please also consider making regular monthly monetary donations to the RAIC Foundation. Your generous gift will support awards and scholarships for Canadian architects and architecture students. Monetary donations can be made online at: https://www.raicf.ca/en/donate/
FOR MORE INFORMATION
Breann Oneid
Program Officer
Royal Architectural Institute of Canada
T: 613-241-3600 ext 215
E: boneid@raic.org