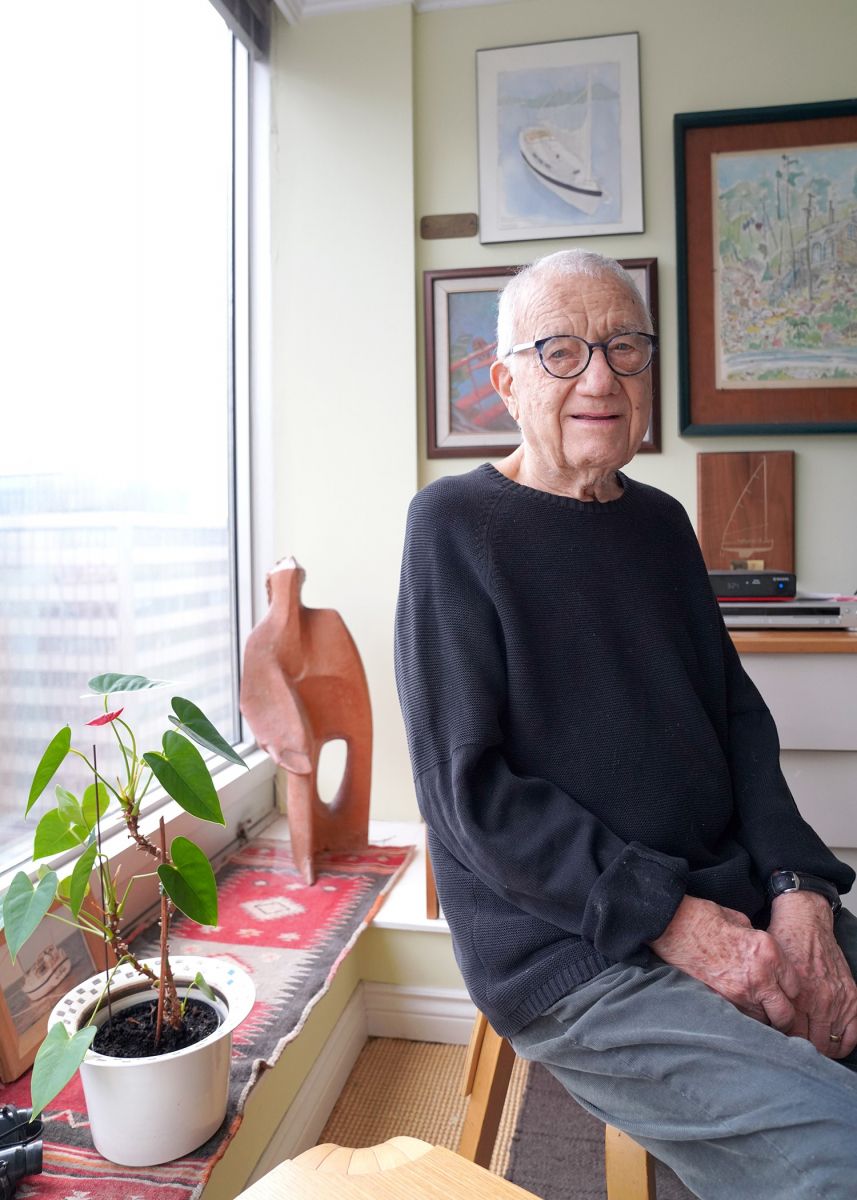 The following text was written by Laura Miller, Associate Professor of Architecture, Daniels Faculty of Architecture, Landscape, and Design, and condensed by the RAIC. To learn more about Mr. Markson and his prolific career, please see Ms. Miller's forthcoming article in the May issue of Canadian Architect, as well as her book, Toronto's Inclusive Modernity | The Architecture of Jerome Markson, Figure 1 Publishers, 2020. 
 
Jerome Markson's built and projected works are both skillful and expansive in scope, spanning the gamut of building types and programs that are possible within architectural practice. He is known for his finely crafted and spatially inventive private houses, such as the Moses House (Hamilton); but also, equally for many other kinds of buildings: for his thoughtful, materially rich urban housing, such as the David B. Archer Co-operative (Toronto); for his innovative housing for the aged, such as True Davidson Metro Home for the Aged (Toronto); for his ground-breaking medical buildings, such as The Group Health Centre (Sault Ste. Marie); and for his numerous cultural and community buildings, such as The Frederick Horseman Varley Art Gallery of Markham (Unionville), and the Cedarvale Community Centre (Toronto). The longevity of Markson's practice itself is a testament not only to his extraordinary commitment, dedication and achievements in architecture over many years, it also speaks to the continued relevance of his work to quite diverse audiences during times of great change, and over time.  
"Jerome has contributed at every stage of his long career to the architectural design community. He has mentored many architects who have contributed to the quality and character of the built environment." writes Bruce Kuwabara, FRAIC, a founding Partner of KPMB Architects. "Through his thoughtful and determined work, he has made Toronto a better city, a more worldly, cosmopolitan place that expresses conviviality through architecture."  
Jerome Markson was born in Toronto in 1929 to parents who were immigrants from Lithuania and Poland. The Marksons lived near Kensington Market on Dundas Street, opposite where Frank Gehry's portico of the Art Gallery of Ontario now stands. The family lived above the street-level office of Markson's father, a physician. The city blocks around them housed a mix of other immigrants from Eastern Europe, as well as those who had relocated from the Ward, a vital "slum" area to the east of Spadina Avenue. Witnessing his neighbours' struggles to make a better life for themselves had a deep impact on Jerome as a boy.  
Markson began studying architecture in 1948, as part of a new generation of Jewish-Canadian architects educated at the University of Toronto after World War II. He spent the summer before his last year of architecture school at the Cranbrook Academy of Art, where Eliel Saarinen had been director for many years. Saarinen's ideas about architecture's essential relation to the larger city resonated with Markson. At Cranbrook, he met Mayta Silver, a ceramic artist from Winnipeg also studying for the summer. They married after Markson's graduation from the University of Toronto in 1953, taking an extended trip to Europe to see firsthand the works of Aalto, Le Corbusier, and others. Following their return, Jerome worked as an intern in the offices of Eugene G. Faludi; James Murray; George Robb; and Venchiarutti & Venchiarutti. He opened his practice, Jerome Markson Architect, in 1955, in a post-war era of profound social, economic, and physical transformation in Canada.  
Urban planner Macklin Hancock succinctly described the ambition of that time: "Canada suddenly flowered, it wanted to be modern, it didn't want to be ancient...." Markson's architecture stands as among the most important, and distinguished, records of this critical time period in the country's becoming. His buildings are harbingers of important shifts in sociopolitical attitudes, urban policies, and modes of architectural production as these evolved during second half of the twentieth century, and into the twenty-first, in Canada and North America. Imbued with a masterful level of        architectural craft and character, his architecture reflects his decades-long pursuit of a more open and inclusive expression of modernity. 
Markson practiced as Jerome Markson Architect until 2015, with the exception of two, overlapping intervals when he partnered with others: Ronji Borooah (partner 1992-2005); and Ernie Hodgson (partner 1992-1999).   
Markson's architectural and urban works have won over 50 design awards over the course of his career. His important contributions to the field of architecture, architectural education, and the arts have been recognized in prestigious career awards. He is a Fellow of the Royal Architecture Institute of Canada, a recipient of the Toronto Society of Architects DaVinci Award, the University of Toronto Arbor Award, and the Ontario Association of Architects Lifetime Design Achievement Award. His work has been extensively published and reviewed in national and international journals, magazines, and newspapers. He has served on prestigious juries and awards committees, such as the jury for Mississauga City Hall, and he has led professional organizations such as the Toronto Society of Architects.  
"By recognizing Jerome Markson, the RAIC will dignify the architectural calling of city-building, and confirm the award is for the totality of a lifelong practice." writes architecture critic Trevor Boddy, FRAIC. "With his personal and public modesty, his commitment to serving diverse strata of society, and to improving our cities thoughtfully, Jerome Markson exemplifies the best of Canadian values, and deserves this honour."  
The Royal Architectural Institute of Canada's Gold Medal is the highest honour that the Institute can bestow in recognition of a significant and lasting contribution to Canadian architecture. The honour recognizes a significant body of work deemed to have lasting influence as demonstrated through excellence in design; excellence in research; and/or excellence in education. It considers the individual's breadth and scope of expertise; established presence within the public sphere; exemplary approaches to environmental sustainability; support and advancement of social justice; and commitment to the future generation of architects.  
Jury Comment(s):
Jerome Markson's exemplary built work spans six decades, moving across scales and programs, framing health, home, hearth, community and civic life with diverse material palettes in a range of different contexts. His career predated the current technological advances in building sustainability. His architecture elevated heritage buildings, encouraged walking and unified density and humanity. These are some of the true tenets of sustainability.  
Markson's work reveals his lifelong commitment to humanism, inclusivity and generosity, teaching us valuable lessons about urban housing and its critical relationship to city building. His work epitomizes a deep caring towards those who will use and enjoy his projects as well as the communities in which they exist. Many architects will offer praise by referring to colleagues as an 'architect's architect'. Jerome Markson is certainly deserving of the title 'planner's architect' – quite possibly a more difficult and exceptional achievement within the profession.