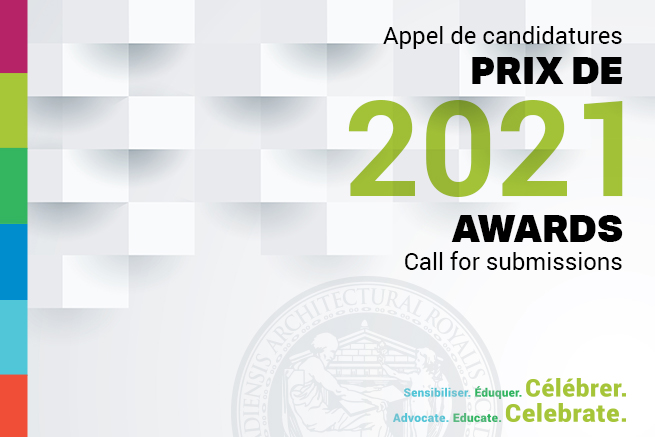 Submission Deadline: January 22, 2021
The Royal Architectural Institute of Canada (RAIC) issues a call for submissions every two years for its Awards of Excellence:
Advocate for Architecture
This award celebrates an individual who has made a public contribution to architecture in Canada. Candidates may be found among clients or patrons, educators, public servants, architects, allied professions and others. The RAIC's own advocacy efforts emphasize a better built environment and socially responsible architecture as well as sustainability, preservation of architectural history, and living conditions in First Nation settlements. The award recognizes long-term commitment to the profession at a national, regional or local level.
Allied Arts Medal
This award honours a Canadian artist or designer for outstanding achievement for art work created to be integrated with architecture. Any medium allied to architecture is eligible, including but not limited to murals, sculpture, glass, fabric, lighting, furniture, water, sound, site-specific installation, video, digital, and industrial and landscape design.
Green Building
This award is to recognize outstanding achievements of high-performance architecture in Canada for buildings that are environmentally advanced, and healthy places to live, work, learn, heal and play. The award recognizes excellence in building design that significantly reduce or eliminate the negative impact of buildings on the environment, enhance occupant and community health and wellbeing, provide for ecological restoration or regeneration.  Seven core areas will be considered:
Location and transportation measures
Sustainable site planning
Safeguarding water and water efficiency
Operational & embodied carbon and energy efficiency
Health and environmental impact of materials and resources
Indoor environmental quality
Design excellence and innovation
Although more difficult to assess and measure at this time, additional consideration should be given to innovative project designs incorporating resiliency and adaptation, circularity and regeneration, social equity and accessibility as co-benefits of a broader application of holistic sustainability principles.
This award is open to building projects - either new construction or major renovations - completed after January 1, 2020.
Innovation in Architecture
This award is to recognize excellence in architectural innovation, including the research and development and the applied use of new technology; unique adaptation of existing technology; new project delivery methods; new design processes; new details; or the development of new methods related to the construction process.
Innovations cover a wider range of architectural endeavors including, but not limited to Management, Project Delivery, Energy, or Building Envelope. The award is intended to recognize skill and innovation in technology, project delivery, building science, practice of architecture and social innovation.
President's Award for Multimedia Representations of Architecture
This award recognizes a narrative about buildings and cities that promotes the publics understanding of architecture and the role of architects. The entry must be a body of work. 
---
International Newswire Partner