Summary of Course
Introduction to Successful Accessible Design introduces the concepts and applications of inclusive design as it applies to Canadian architecture and its built environment. Students will analyze the impacts and conflicts of accessibility in society, built form, and the development industry. In addition to learning the basic terminology and concepts, and having access to the latest resources, they gain practical experience including being able to spot the barriers that surround us as well as apply new skills in real-life applications of accessibility.
The exercises and assignments guide students through how to integrate accessibility in a holistic way within a variety of spaces. Accessibility measures and standards beyond the building code requirements are included to ensure students have a solid foundation. This course further illustrates a successful way of accessible design integration in their designs and helps the student to re-create their vision of the Accessible Canada Act.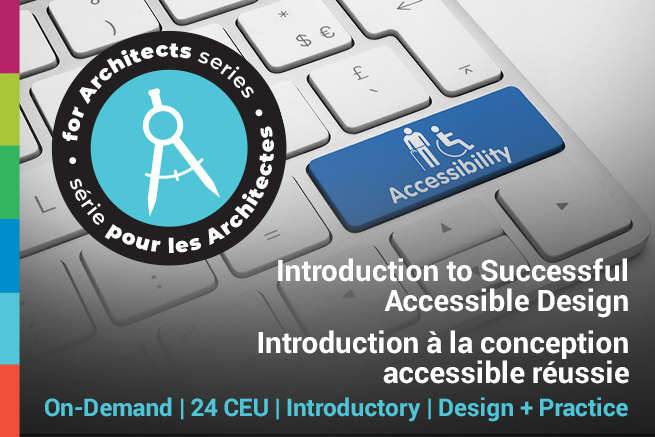 Learning Outcomes: 
At the completion of this course the participants will be able to: 
Skillfully infer the impact of accessibility on society through the design of the built environment
View all project aspects and work through the lens of accessibility, appreciating how inclusive design impacts the lives of people with disabilities and how inaccessible design barriers limit access, choice and rights
Establish the necessary vocabulary to discuss accessibility and appropriate language to use when speaking with persons with disabilities
Identify Canadian and regional regulations, legislations and standards for accessibility that will help to achieve inclusive design for places and buildings
Identify how accessible design should be integrated into the design process to achieve inclusivity and be compliant with our laws
Possess capabilities to apply evidence-based design and Universal Design principles to design elements in the real world
Successfully plan and run accessible public meetings including those for Accessibility Advisory Groups
Apply accessible design requirements and standards specific to different facilities and design problems.
Course Lesson Units: 
1. Introduction to Accessibility
2. Regulation, Legislation and Standards
3. Introduction to Evidence-Based Design
4. Effective Design Consultation 
5. Accessibility and the Design Life Cycle
6. Accessible Design Tasks in Schematic Design and Design Development 
7. Accessible Design Tasks in Construction Drawings
8. Next Level Accessible Design 
9. Facility Specific Accessible Design 
10. Usable Accessible Design
Instructions: 
Once you have purchased your RAIC online course, please click on the RAIC LMS link in the menu at the top of the page to access your course. You will see your course listed on the dashboard when you sign in. (Please note, if you click on the link and you are not automatically signed in to the RAIC LMS, please click Login and you will be automatically signed in.)