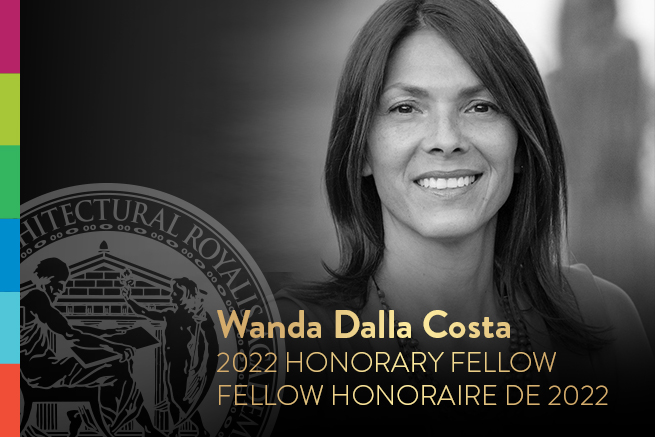 OTTAWA January 21, 2022 – The Royal Architectural Institute of Canada is proud to announce that Wanda Dalla Costa, a prominent Indigenous voice and practitioner in North American architecture, has been awarded honorary fellowship for 2022.
Wanda Dalla Costa is a member of the Saddle Lake Cree Nation and was the first First Nation woman to become an architect in Canada. Her firm, Tawaw Architecture Collective, is based in Phoenix, Arizona. She is the director and founder of Arizona State University's Indigenous Design Collaborative, a community-driven design and construction program that brings together tribal community members, industry and multidisciplinary teams of university students and faculty to co-design and co-develop solutions for tribal communities.
Dalla Costa is a prominent Indigenous female voice within the architectural profession–specifically within the academic sphere in North America.
Comment from the Officers of the College of Fellows
"The Officers of the RAIC College are thrilled to recognize the considerable achievements of Honorary Fellow Wanda Dalla Costa through her extensive contributions and advancement of excellence in Architecture."
Quote from 2022 Honorary Fellow Wanda Dalla Costa
"I am humbled to be named an Honorary Fellow of the RAIC. During this time of reconciliation, I accept this honour on behalf of all of my fellow Indigenous Canadians whose knowledge, generosity and perseverance continue to inspire my team and guide the work. I will continue to honour our communities across North America, their history, aspirations, resiliency, and futurity. Thank you, Royal Architectural Institute of Canada, for this distinction."
About the RAIC
The Royal Architecture Institute of Canada (RAIC) is a not-for-profit, national organization dedicated to representing architects and architecture since 1907. The RAIC is the leading voice for excellence in the built environment in Canada focused on providing Canada's architectural community with the tools, resources, and education to elevate their practice. The RAIC is committed to showcasing how design enhances the quality of life while advocating for important issues of society through responsible architecture. The RAIC's purpose is to create a better world for all by empowering Canada's architectural community. Through our work, the organization envisions a strong architectural community that is valued and empowered to create change. The RAIC's national office is based in Ottawa with a growing federated chapter model. Current chapters and networks are based in British Columbia, Alberta, and Nova Scotia.