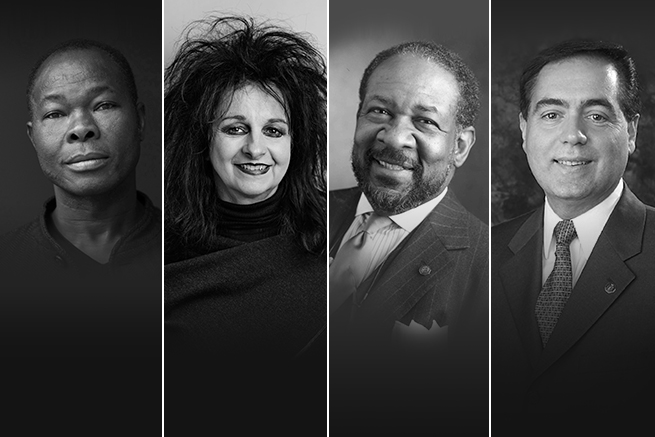 OTTAWA, January 24, 2018 –  The Royal Architectural Institute of Canada (RAIC) has selected four international architects to receive 2018 Honorary Fellowships. This year's Honorary Fellows demonstrate the diverse ways architects contribute to the profession and society, over and above exemplary design and practice.
For example, French architect Odile Decq has taught for decades and recently started a school of architecture. Diébédo Francis Kéré, the first child in his village in Burkina Faso to be sent to school, now provides opportunities to others by building schools and finding construction methods appropriate to local needs.
American architect William J. Stanley III has been a trailblazer for architects of African descent and a community leader, while John Sorrenti, also American, has given time and thought to the associations and boards that make it possible to be an architect.
"We are thrilled that these exceptional professionals have accepted to become members of the RAIC," said Diarmuid Nash, FRAIC, Chancellor of the RAIC College of Fellows. "Odile Decq is one of the most successful women in architecture and serves as a role model to many. Diébédo Francis Kéré creates inspiring architecture that uplifts communities and helps an exchange of ideas between Africa and Europe. In addition to running a thriving practice, John Sorrenti has devoted countless hours to professional associations, while William Stanley has broken new ground for African American architects in the American South."
Honorary fellowship recognizes extraordinary achievement. Decq, Kéré, Stanley, and Sorrenti will be inducted into the RAIC College of Fellows at a ceremony during the RAIC Festival of Architecture in Saint John, NB, May 30 - June 2. Kéré will deliver the keynote address at the College of Fellows Convocation, and Decq will be the keynote speaker at the RAIC Foundation Luncheon.
"I have had a long, friendly relationship with Canadian architecture since my first visit in the early 1990s," says Decq. "It is a great honour for me to receive the Honorary Fellowship. Being from Brittany in France, I have always been looking over the horizon line of the Atlantic Ocean towards the Canadian coast, and receiving this honour in Saint John is more than just a personal pleasure of discovering the place."
"It is an incredible honour to me to be appointed as an Honorary Fellow of the RAIC because beyond recognizing my work, it recognizes the importance of socially and environmentally responsible architecture," says Kéré. "It attests to the fundamentality of it in today's architectural landscape. Since I started, I always tried to incorporate the people and their environment in my designs, and being recognized for it sends the message that it is important."
"I have always cherished my feeling of endearment to Canada," says Stanley.  "Early in the 20th century – a period of segregation and Jim Crow in the U.S. – my great-uncle received his highly touted medical degree from McGill University.  Nearly a century later, I have come to appreciate sharing best practices for mentoring young architects with colleagues who are Fellows in the RAIC.  My great-uncle would be very proud of my receipt of this high honour."
"This award is especially significant to me because it recognizes and reinforces the work of the RAIC and the AIA's past Chancellors," says Sorrenti.  "Our collaboration has focused on enhancing Fellowship by increasing awareness of architects' global responsibility.  This recognition also reinforces continuing this dialogue to strengthen the value of both Colleges within the architectural community.  Having an opportunity to work with my Canadian colleagues has been an amazing experience."
About the RAIC
The Royal Architectural Institute of Canada is the leading voice for excellence in the built environment in Canada. Representing about 5,000 members, the RAIC advocates for excellence, works to demonstrate how design enhances the quality of life and promotes responsible architecture in addressing important issues of society.