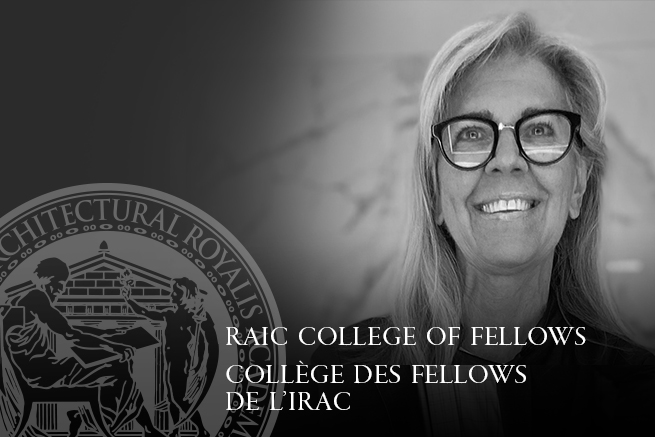 For Immediate Release
May 30, 2022
OTTAWA, May 30, 2022 – Liza Medek, FRAIC, is an experienced professional with a diverse history working as an architect, planner, project manager, academic administrator, educator and industrial technology advisor. She succeeds Claudio Brun del Re, FRAIC, as Registrar for the RAIC College.
Liza is committed to educating the public to improve their knowledge of the built environment and strongly stands behind the words: architecture matters. By empowering Canadians, as well as architects, with the knowledge of RAIC's core values: integrity, climate action, reconciliation, social justice, innovation and more, she strongly believes this will result in an enhanced quality of life for all. Liza's volunteer commitments reflect her passion to engage the architectural community with the tools and resources to help improve and promote architectural practice.
"I look forward to contributing to the continued success of the RAIC College," says Liza.
The Registrar of the College is responsible for recording all actions taken at the Convocation and meetings of the National Committee.
Liza will officially begin her three-year term after the Congress on Architecture in October 2022. 
About the College of Fellows
The mission of the College of Fellows, founded in 1941, is to strengthen and reinforce efforts of the Royal Architectural Institute of Canada (RAIC) in its endeavor to enhance and develop the profession of architecture.
The College of Fellows formally recognizes members and distinguished laypersons who have made outstanding contributions to the profession. Fellowship in the RAIC is an honour conferred on members singled out for their contribution to research, scholarship, public service or professional standing to the good of architecture in Canada, or elsewhere.
Fellowship is bestowed for life and is one of the highest honours the Institute can confer upon a member.
About the RAIC
The Royal Architecture Institute of Canada (RAIC) is a not-for-profit, national organization dedicated to representing architects and architecture since 1907. The RAIC is the leading voice for excellence in the built environment in Canada focused on providing Canada's architectural community with the tools, resources, and education to elevate their practice. The RAIC is committed to showcasing how design enhances the quality of life while advocating for important issues of society through responsible architecture. The RAIC's purpose is to create a better world for all by empowering Canada's architectural community. Through our work, the organization envisions a strong architectural community that is valued and empowered to create change. The RAIC's national office is based in Ottawa with a growing federated chapter model. Current chapters and networks are based in British Columbia, Alberta, and Nova Scotia.
For more information:
Ashley Belleau-Dame
communications@raic.org