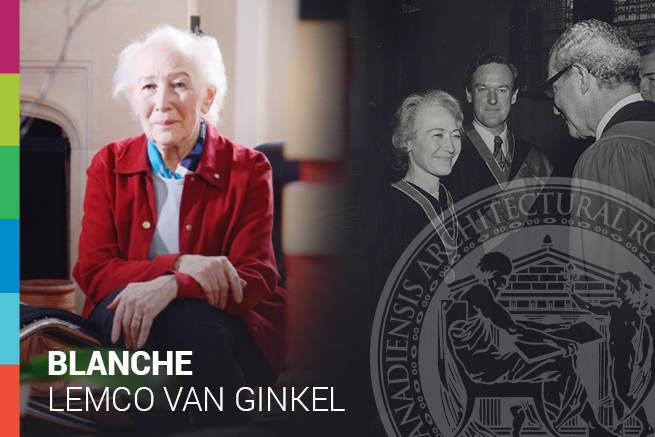 Ottawa, March 30, 2020– The RAIC is honoured to award the Gold Medal—the highest distinction the Institute can bestow in recognition of a significant and lasting contribution to Canadian architecture—to visionary architect Blanche Lemco van Ginkel.
Blanche Lemco was born in London, England, in 1923. At age thirteen, she moved with her mother and siblings to Montreal, Canada. Her father had been in the garment industry in England, where he owned a small factory, and both her parents were actively interested in the arts. At first, she favored stage design as a profession, but owing to limited opportunities for theater education in Montreal in the early 1940s, she chose to pursue architecture instead, drawn to its potential to change the world.
"Blanche is a living connection to Canadian modernist roots, bringing her experience from working with Le Corbusier to Canada," said the 2020 Gold Medal Jury.  "Throughout her career, she has woven modernist social ideals through the fabric of our society as a great educator, communicator and architect.  Blanche epitomizes a deep commitment to intellectual rigour and cross-disciplinary dialogue; and continues to be a role model for the Canadian architectural community."
In 1940, she enrolled in McGill University with a scholarship. She was one of the first women students admitted to McGill's School of Architecture, and in 1945 with a Bachelor of Architecture degree and several prestigious student awards. She continued her education at Harvard University, obtaining a master's degree in city planning in 1950.
After graduating from McGill University, Blanche Lemco worked in municipal planning in Windsor, Quebec (1945), and in Regina, Saskatchewan (1946); in architecture for William Crabtree in London (1947); for Le Corbusier in Paris (1948); and for Mayerovitch and Bernstein in Montreal (1950–51). While working in Le Corbusier's atelier, one of her projects was the rooftop terrace of the Unité d'Habitation in Marseille, France, in particular the two iconic concrete ventilator stacks and the nursery. She recalled the experience with humor and clarity nearly seventy years later:
"I designed the form of the ventilators (which appeared on initial sketches as a single column), proposing a trefoil plan because I was told by the engineers that there were three extractor fans. When I showed this to Le Corbusier, explaining my proposal, he said. 'You young people are such purists.' I refrained from saying, 'Where do you think we learned that?' However, my initial drawing proposed that the ventilators be modestly splayed, which would have been more descriptive of exhaling."
The design for the rooftop, modeled on a town square, made use of van Ginkel's urban design education: "I designed the children's play area and the high parapet around the running track/edge of the roof. The idea was that the roof was like the square of a small town, with its usual facilities, and that one saw the Alpes Maritimes in the distance as one would over the house roofs. This is why the parapet is relatively high." In Le Corbusier's office, she met several influential architects and planners, including Georges Candilis, Shadrach Woods, Jerzy Soltan, and André Wogenscky, an experience that informed her later involvement in the Congrés Internationaux
d'Architecture Moderne (CIAM).
In 1951, Blanche Lemco moved to Philadelphia, where she practiced architecture and taught at the University of Pennsylvania. There, with her colleagues Siasia Nowicki and Robert Geddes, she initiated the Philadelphia CIAM Group for Architectural Investigation (GAI). Lemco van Ginkel represented the group at CIAM 9 Aix-en- Provence in 1953 and at CIAM 10 Dubrovnik in 1956.
From 1951 to 1957, Lemco van Ginkel taught at the University of Pennsylvania, where she, Nowicki, and Geddes were the first full-time appointments made by G. Holmes Perkins, Dean of the School of Fine Arts.
She taught at the Graduate School of Design at Harvard University in 1958, 1971, and 1975 with Josep Lluis Sert, the GSD's Dean from 1953 to 1969. In Montreal, she developed the first courses in urban design at the Université de Montréal (1961–67 and 1969–70) and at McGill University (1971–77). Van Ginkel joined the faculty of the University of Toronto in 1977 after a tumultuous chapter in its history, becoming Dean of the School of Architecture (and in 1980, Dean of the Faculty of Architecture and Landscape Architecture), continuing to teach there until 1993. For four decades, she was active in architecture education organizations across North America, serving on accreditation committees and on the board of the Association of Collegiate Schools of Architecture (ACSA), and was president of the ACSA in 1986–87.
Lemco van Ginkel's career is closely linked to that of her husband, Sandy (H.P.D.) van Ginkel, whom she met in 1953 at CIAM 9 in Aix-en-Provence, where they were both involved in the early discussions that would lead to the formation of Team 10. They married in 1956, and in 1957, they formed a professional partnership, van Ginkel Associates, opening an office at 4270 Western Avenue (now Boulevard de Maisonneuve) in Montreal. The practice operated in Winnipeg from 1966 to 1968, when it moved back to Montreal, then to Toronto in 1977.
Her architecture and urban planning are marked by a deep social purpose and a desire to produce comfortable modern environments, emphasizing cultural and collective values. As she has stated, "Architecture is a cultural pursuit and those who practice it, or are allowed to practice it, reflect our culture, our mores, our attitudes, in Canada as elsewhere." Drawn to urban planning by its new ideas, Lemco van Ginkel imagined that it might be more open to women. Her collaborations with Sandy van Ginkel on architecture and urban planning projects manifest an early interest and expertise in designing for urban traffic patterns. The van Ginkels are credited with saving Old Montreal, which has become one of North America's most successful heritage districts, by running an urban expressway under the neighborhood rather than following the original plan of building it at ground level and demolishing its historic buildings.
The success of that project led to the founding of urban planning as a profession in Canada, when she co-authored legislation for the first Quebec Provincial Planning Commission in 1963–67. The firm's other major projects include the design of Bowring Park in St. John's, Newfoundland (1958– 65), which they presented at the last CIAM conference in Otterlo, Holland, in 1959; the vision and preliminary plan in 1962 for Montreal's Expo 67; the protection of Montreal's Mount Royal, saving a larger area of it from development; and a study of urban circulation in Midtown Manhattan in 1970–72. The van Ginkels' emphasis on pedestrian movement and on public transportation anticipated the environmental movement by at least a decade. A particularly interesting outcome of the work commissioned by the City of New York was the Ginkelvan, a hybrid-electric minibus designed to alleviate congestion in the core of the United States' largest city. Later purchased by the city of Vail, Colorado, its bright orange color referenced modernism's bold colors, as well as the pop sensibilities of the era.
Film and filmmaking were especially important in Lemco van Ginkel's career: she frequently used film and exhibitions to communicate research results and design ideas. During World War II, she worked at the National Film Board of Canada; and while living in Philadelphia in the 1950s, she wrote the film, It Can Be Done, commissioned by of the U.S. State Department. In 1956, she presented it at the International Federation of Housing and Town Planning Congress in Vienna, where it won the Grand Prix for Film. In 1960, she was consultant to the National Film Board and appeared in the film, Suburban Living. During the 1960s, she was involved in organizing the Montreal International Film Festival and the Winnipeg Film Society.
Belying her petite frame and polite British manner, van Ginkel is a giant among modernist planners of the 1960s. She achieved a number of firsts (or near firsts) as a woman in the architecture profession: She was the first woman to serve as a Dean of an architecture school in North America; the first woman to be elected a Fellow of the Royal Architectural Institute of Canada (RAIC); the first Canadian and first woman to be elected President of the ACSA; the first woman to teach at the University of Pennsylvania (with Siasia Nowicki); the first woman elected to the council of the Town Planning Institute of Canada; and the first woman architect elected as a Member of the Royal Canadian Academy of Arts. She has also helped disseminate information about the history of Canadian women architects through her published articles and speaking engagements on the topic. She was open about her own experiences, as, for example, when she attributed the rarity of women students in Canada in the 1940s "to the social climate of Quebec, where my mother could not sign a contract and where women were disenfranchised until 1940." In 1986, she co-curated an important exhibition, "For the Record: Ontario Women Graduates in Architecture, 1920–60," at the University of Toronto's Faculty of Architecture and Landscape Architecture; the records of that exhibition were donated to Virginia Tech's International Archive of Women in Architecture (established 1985).
Van Ginkel has a quick wit and a sharp intellect and is also quick to point to women's accomplishments as architects as being more significant than their gender; as she said in 1991, "Numbers are not all, and distinction in the profession is more important."
"The jury is deeply honoured to present the 2020 Gold Medal Award to Blanche Lemco Van Ginkel. As a Canadian leader and advocate, Blanche has had a profound influence on architectural thinking, education and practise," the Jury said in a joint statement. "She has been an inspiration to generations of architects; and has consistently furthered the architectural and planning discourse through publication and practise.  Her seminal planning studies have touched all parts of our country from the Bowring Park plan in St. John's, Newfoundland, which earned a Massey Award for Architecture; to understanding the community and regional implications of industry in Ezehazy, Saskatchewan; to exploring social implications implicit in northern development.   Her work in transportation spans the development of the one of the first electronic vehicles, to airport transportation and award-winning transit studies."
The jury members for 2020 were:
Diarmuid Nash, PP/FRAIC Chair of the Jury
Moriyama & Teshima Architects
Rami Bebawi, MRAIC
KANVA
Quebec, QC
Pat Hanson, FRAIC
gh3
Toronto, ON
Jessie Andjelic, MRAIC
SPECTACLE
Calgary, AB
Omar Gandhi, MRAIC
Omar Gandhi Architect
Halifax, NS
Shelley Craig, FRAIC
Urban Arts Architecture
Vancouver, BC
Previous Gold Medalists include: Gilles Saucier, FIRAC, and André Perrotte, FIRAC, of Saucier + Perrotte Architectes, Peter Busby, FRAIC, His Highness the Aga Khan, Bing Thom, FRAIC, George Baird, FRAIC, John and Patricia Patkau, FRAIC, Dan Hanganu, FIRAC, Bruce Kuwabara, FRAIC, Arthur Erickson, FRAIC, Phyllis Lambert, Moshe Safdie, FRAIC, Raymond Moriyama, FRAIC, and others.
About the RAIC
The Royal Architectural Institute of Canada is the leading voice for excellence in the built environment in Canada. Representing about 5,000 members, the RAIC advocates for excellence works to demonstrate how design enhances the quality of life and promotes responsible architecture in addressing important issues of society.