MGA | MICHAEL GREEN ARCHITECTURE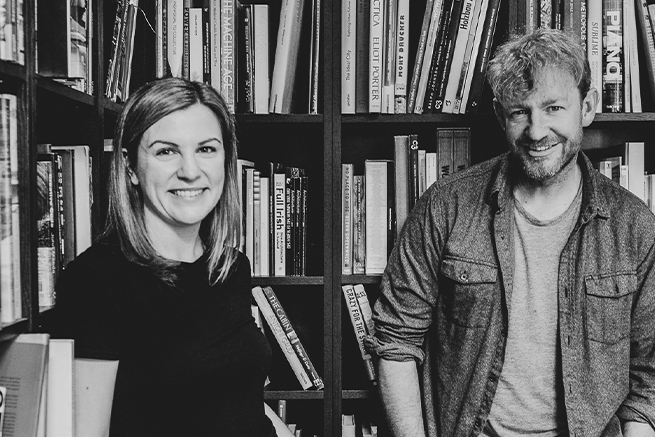 MGA | MICHAEL GREEN ARCHITECTURE is one of the most internationally recognized architecture firms in Canada. Beyond the four Governor General's Medals for Architecture and the two RAIC Awards for Architectural Innovation, they are recognized for their innovation in sustainable architecture and developing carbon-neutral buildings with advanced wood construction.
The firm was founded in 2012 by Michael Green, who is known for his research, leadership, and expertise in the tall wood movement and building with timber products. Green's work in mass timber construction is evident in both the firm's practice and in academic theory, with Green authoring 'The Case for Tall Wood Buildings' and popularizing the phrase 'mass timber.'
In 2018, Natalie Telewiak became a Principal at MGA. With an education in architecture and engineering, Natalie brings an approach rooted in material logic. Together, Michael and Natalie run MGA from the office in Vancouver, British Columbia.
MGA provides a full scope of architectural services, from pre-design through to completion— with landscape architecture, interior design, and wayfinding are integrated into their process. Through projects, clients, and staff, MGA gathers knowledge from one type of building or interior and hand it to the next, avoiding cookie-cutter solutions for the same project type each time. MGA is adept at reinvigorating existing buildings through renovation, and they pursue high-performing, environmentally sensitive buildings for their clients. Graphic design, architectural rendering, and architectural model-making round out their services.
Embracing the complexity of serving both people and the planet is a founding principle of MGA. The firm got its start promoting widespread adoption of mass timber as an underutilized tool to address the embodied carbon blind spot in the buildings sector. This idea has spread, and as a result, their team has gained experience in areas such as LEED, Passive House, and net-zero carbon construction.
Their signature aesthetic results from reductive design and careful material choices—to build for a more sustainable planet we must use less and waste less. That includes building less, and certainly only providing what is needed and nothing more. These values reside at the core of our process; the simplest solutions sometimes require the greatest care and thoughtfulness.
Rather than shying away from the unknown, MGA is passionate about pushing past the limits of what industry and the public think is possible for buildings. Through projects, such as the Wood Innovation and Design Centre, the firm breaks open barriers and uses its voice within the industry to invite others through.
At MGA we believe that thoughtful design is influenced by the sum of our collective experiences. We are so proud of our team, both current and past members, and the work we have done and continue to do together. Our mission is the pursuit of meaningful impact that improves the lives of our clients and communities and the health of our planet. That pursuit has lead us to innovations and designs we are proud to have contributed to and championed. We believe in the beauty, voice, and impact of the architectural profession, and our collective ability to shape legacy and meaning in our daily decisions. Our practice is motivated by the idea that the only thing stopping us from changing the world is the assumption that someone else will. It is an honour to be part of this great community and a privilege to receive the 2021 RAIC Firm Award.
MGA supports education in sustainable practice and timber construction. In 2014, Michael Green founded Design Build Research Institute (DBR), an education and research non-profit. The institute's purpose is to provide design-build courses for students of all ages— along with free online education courses to help the public, industry professionals, public policymakers, code authorities, and the development industries understand how to build with mass timber.
It is in a spirit of commitment to local, regional, and international challenges, ranging from poverty, mental illness, family and children's rights, education, housing, and environment and climate change, that have informed the MGA's vision.
Jury Comment(s):
MGA | Michael Green Architecture deserves recognition as a leading architectural firm because of their ability to consistently deliver leading-edge timber buildings, carefully designed to a high degree of aesthetics and performance.  This firm shows its passion for innovation and sustainability through its many finely crafted wood buildings— and displays its commitment to education through the design-built studio held every year to expose young architects to the design and construction of actual structures.
They have distinguished themselves for their ability to translate focused material research and technical pursuits into a notable and innovative body of work that embodies a deep commitment to sustainability.
MGA has become one of the world's leading voices on the future of wood design through their advocacy and in doing so, carry the banner for Canadian architecture internationally. In this sense, the work of Michael Green Architecture acts as an ambassador for Canadian architecture.
---