'Webday Wednesdays' are webinar-based learning opportunities organized into monthly, thematic mini-series, comprised of multiple related webinars in both English and French. Each of these weekly webinars is presented by a different subject matter expert in the field being explored. 'Webday Wednesdays' take place on three to four Wednesdays per month.
---
Webday Wednesdays Menu
---
May 2019 - Advanced Building Envelopes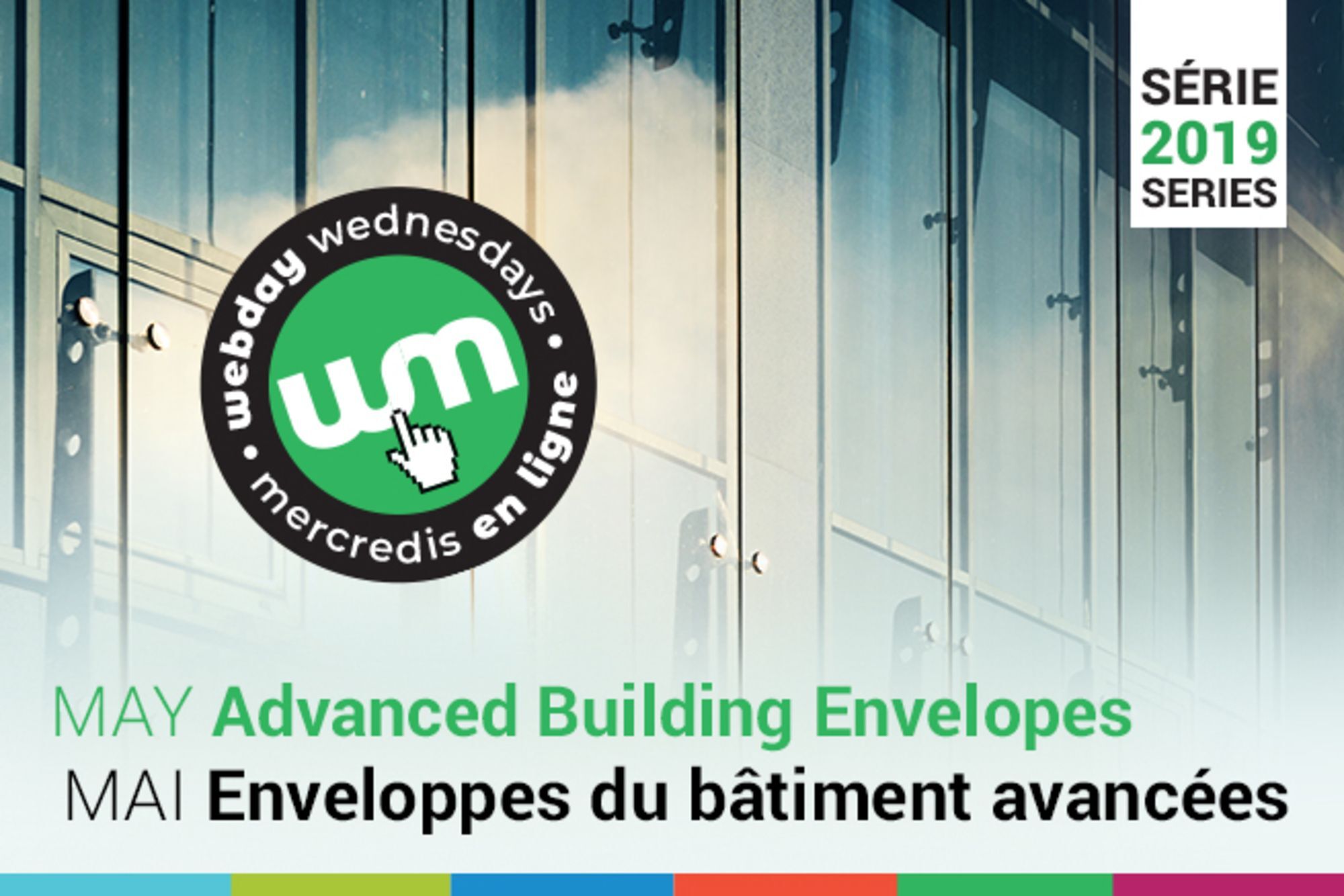 Advanced Building Envelopes Webinars
English Webinars
May 1 – S, M, L, XL –DIFFERENT ENVELOPES, SAME CRITERIA
Deborah Byrne, CPHD, CEng, BEng, MIEI
Director of Passive House Design, Kearns Mancini Architects 
May 8 – CHALLENGES AND OPPORTUNITIES OF REVITALIZING AGING FAÇADES
Rob Wood, P.Eng.
President, C3 Specialty Glazing Solutions
May 15 –  ADVANCED BUILDING ENVELOPES SIMPLIFIED: FOUR CONTROL LAYERS 
Kathleen Narbonne, MSc., Certified Passive House Designer, LEED Green Associate
Building Scientist, Sustainable - Architecture for a Healthy Planet
May 22 – AFFORDABLE MULTI-RESIDENTIAL PASSIVE BUILDINGS - LEARNING FROM EXPERIENCE
Emma Cubitt , MArch, OAA, MRAIC, LEED ®AP 
Principal, INVIZIJ ARCHITECTS INC. 
May 29 – TWO WALL ASSEMBLIES FOR PASSIVE HOUSE COLD CLIMATES
Stephen Pope, OAA, FRAIC, Assoc Member ASHRAE
Sustainability Consultant, CSV Architects
For more information contact Camille Rivard: crivard@raic.org 
---
Coming Soon!
November: Wood Architecture + Construction
December: Marketing + Communications in Architecture
For information on past Webday Wednesdays series, click here.
For more information on the RAIC Continuing Education program, click here.
Have more questions? Interested in presenting a Webday webinar? Please contact: crivard@raic.org