Maxime-Alexis Frappier, MIRAC
ARCHITECTE ASSOCIÉ SENIOR, MOAQ.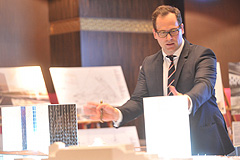 Maxime-Alexis Frappier graduated in 2000 from the University of Montréal School of Architecture, winning the prestigious Canadian Architect Student Award of Excellence for his thesis work. From 2000 to 2006, he worked for Saucier Perrotte architect on various projects such as the New McGill Music building, the First Nation Pavillon at the Montreal Botanical Garden, the New College student residence, the Perimeter Institute and the Michel Brisson store.
In 2006, he co-founded ACDF ARCHITECTURE which is now comprised of 35 passionate professionals. Since its creation, he has worked on several projects throughout Canada, Abu Dhabi (UAE), Dubai (UAE), Can-Tho (Vietnam) and Jakarta (Indonesia). His conceptual approach to design is based on the precise understanding of the user's needs. From this, he creates spaces where functionality and efficiency give legitimacy and strength to a sensory and poetic approach to architectural design.
His first constructed project with ACDF ARCHITECTURE was St-Germain Égouts et Aqueducs, which received a Governor General's Award in Architecture for 2010, in addition to the Award of Excellence from the Quebec Association of Architects in 2009. This work, and other recent projects have been published in more than 30 international magazines including Ottagono Italy, Hinge, Azure, Canadian Architect and the Korean book Skyscraper SS44 in addition to the Chinese publication Architecture Highlights ShanLin A&C Limited.
Mr. Frappier is deeply involved in the architecture of Quebec. His involvement at multiple levels allows him to participate in the collective dialogue on architecture and its place in Quebec society.
Since 2005, Mr. Frappier has been an invited professor at the School of Architecture at Université de Montréal and a frequent guest critic at both Laval and McGill universities. His teaching methodology is based on an intuitive approach that exploits the use of physical modeling, 3D modeling and videos.
He has also been a guest instructor at the University of Ho Chi Minh in Vietnam, and was invited to give a special lecture at the University of Taipei after participating as a finalist in the prestigious Keelung Terminal International competition alongside such renowned architecture firms as Mecanoo, Asymptote and Neil Denari.
Jury Comment(s):
"The jury was impressed by the quality and breadth of work achieved by so young an architect. Jury members appreciated the clarity of the work, the bold forms, strong material palette and a clear ability to address site. Several projects are situated in challenging sites – whether due to the presence of infrastructure or complex topography. The buildings engage site, but equally construct their own, and mark a presence in their surrounding context. In addition he is exceptionally committed to the profession and vigorously contributes to training future architects both within his firm and as a university instructor."