Architect(s):
Diamond & Myers (designed by Barton Myers)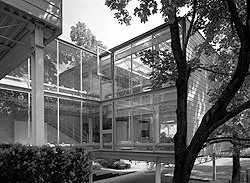 Sited on the edge of a beautifully wooded ravine park in Toronto, this residence has an exterior central courtyard, separating flexible living units front and back; glass walls bringing in daylight and affording views to the park.
Built on unstable fill, the two-story house floats above the ground on steel columns bearing on piles. Contemporary industrial materials have been used in an elegant way. The standard components of the steel structure and mechanical/electrical servicing systems are exposed to view and finely finished as a setting for household furnishings. Sliding walls hung on tracks, adjustable canvas awnings under the skylights, and roller blinds at the glass walls give the owners a high degree of flexibility and personal control.