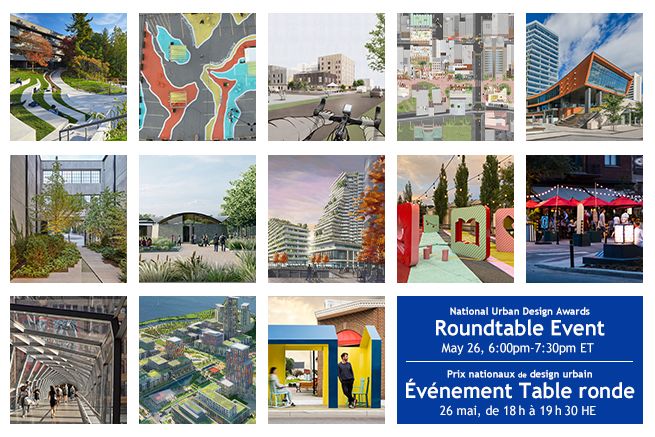 OTTAWA, April 4, 2022 – The Royal Architectural Institute of Canada (RAIC), the Canadian Institute of Planners (CIP) and the Canadian Society of Landscape Architects (CSLA), will present an exciting virtual Roundtable Event celebrating the 2022 recipients of the National Urban Design Awards. The roundtable discussion will focus on the ways in which architecture, landscape architecture and planning play an integral role in the vibrancy of our built landscape. 
Taking place on May 26, the event will feature a presentation of the winning projects, followed by a lively discussion moderated by Emeka Nnadi, MALA, SALA, AALA, CSLA, ASLA, LEED AP, one of the three 2022 jury members. 
For more information about the 2022 National Urban Design recipients, visit the award recipient page here.  
About NUDA:  The RAIC, CIP, and CSLA established the National Urban Design Awards in 2006 to promote awareness of the important role of urban design in maintaining and enhancing the quality of life in Canadian cities. The awards recognize the contributions of individuals, organizations, firms, and projects. NUDA is a biennial program and the only national awards program that exclusively recognizes urban design achievement. 
About the RAIC: The Royal Architectural Institute of Canada (RAIC) is a not-for-profit, national organization dedicated to representing architects and architecture since 1907. The RAIC is the only national voice for excellence in the built environment in Canada focused on providing Canada's architectural community with the tools, resources, and education to elevate their practice. The RAIC is committed to showcasing how design enhances quality of life, while advocating for important issues of society through responsible architecture. The RAIC's purpose is to create a better world for all by empowering Canada's architectural community. Through our work, the organization envisions a strong architectural community that is valued and empowered to create change. The RAIC's national office is based in Ottawa with a growing federated chapter model. Current chapters and networks are based in British Columbia, Alberta, and Nova Scotia. 
About the Canadian Institute of Planners: The Canadian Institute of Planners (CIP) works on behalf of over 7,500 planning professionals nationally. Members work in both the public service and the private sector, across fields such as land use planning, environmental resource management, land development, heritage conservation, social planning, Indigenous communities planning, transportation planning, and economic development. https://www.cip-icu.ca/ 
About the Canadian Society of Landscape Architects: The Canadian Society of Landscape Architects (CSLA) is a professional organization with over 2,800 landscape architects as members represented by provincial and territorial associations plus academic programs across the nation. As the voice of the profession in Canada, the CSLA is an advocate for its members on issues such as urban design, urban renewal, sustainable development, human health and well-being, climate change, cultural heritage, reconciliation, and justice, equity, diversity and inclusion. https://www.csla-aapc.ca/csla-aapc 
The Royal Architectural Institute of Canada
Katie Russell  
613-695-4727
Canadian Institute of Planners 
Lori Barron-Munteanu, Manager, Communications 
Canadian Society of Landscape Architects 
Michelle Legault, Executive Director 
Katherine Velluso, Communications Coordinator