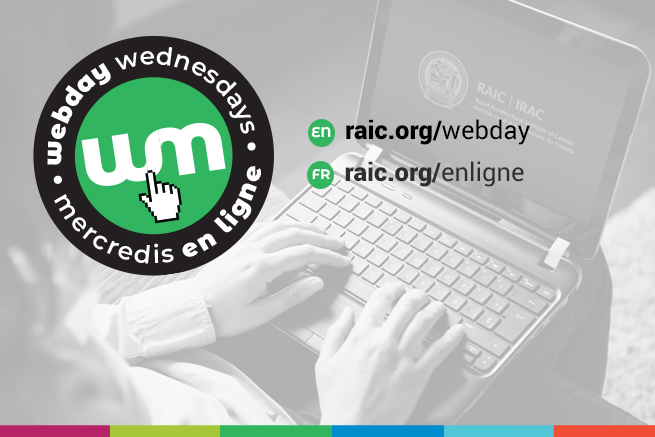 2019
January 2019 - Building Information Modeling (BIM)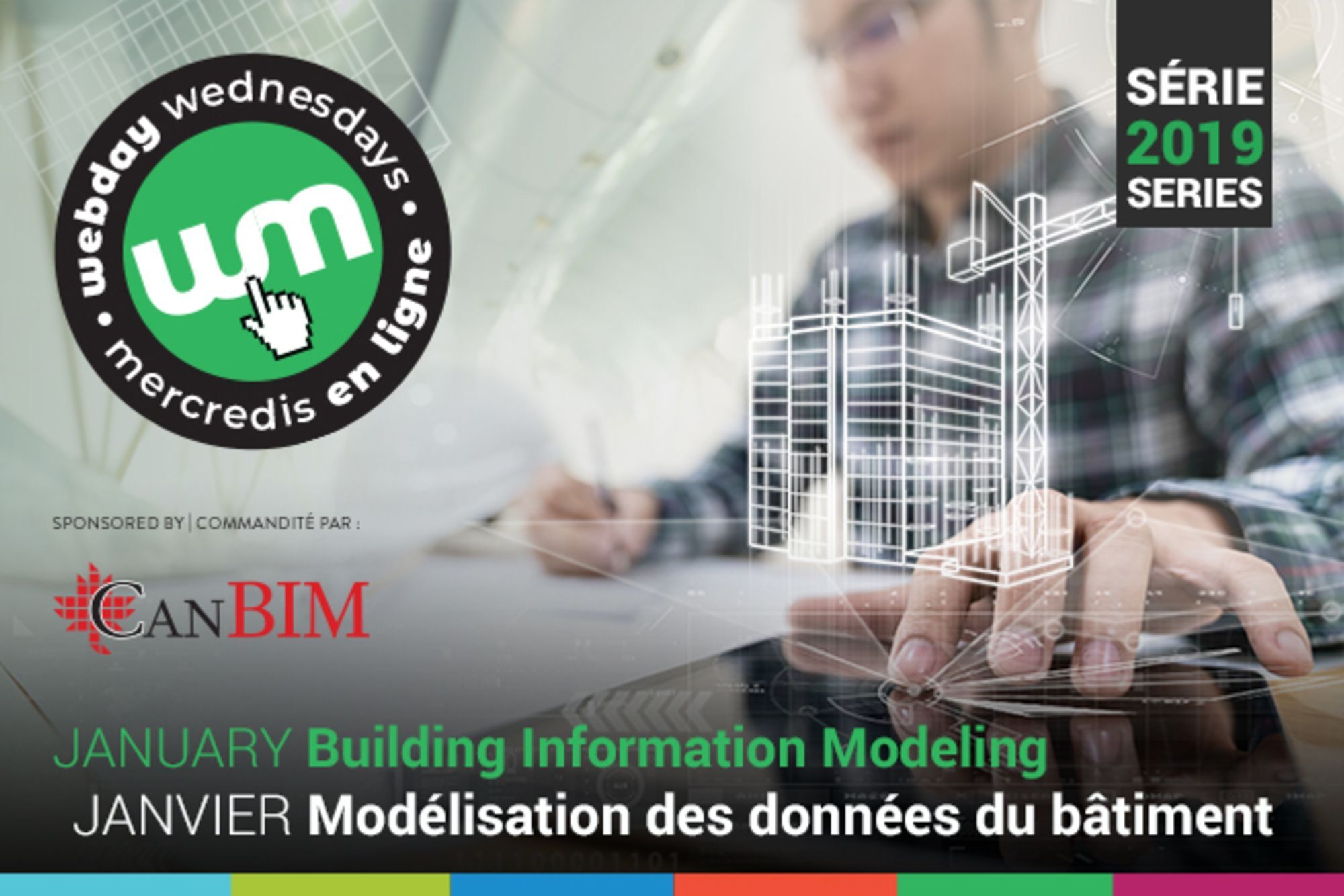 BIM Webinars
English Webinars
January 16 – INFORMATION FUSION: HARNESSING THE 'I' FOR LIFECYCLE DATA MANIPULATION
     Brent Mauti, B.ARCH, OAA, AAA, LEED-AP, MRAIC, NCARB, Int. Assoc. AIA, CANBIM CP
     IBI Group – Global Director, Design Technology
January 23 – DIGITAL BUILT GOVERNMENT OF CANADA: UNDERSTANDING THE DIGITAL TRANSFORMATION LANDSCAPE IN CANADA
     Megan Beange, B.A.S.,M.Arch, Grad.Dip. Architectural Conservation, Specializing in BIM
     Public Services and Procurement Canada, Government of Canada – National BIM Lead, Technical Services, Real Property Services
January 30 – BRACING FOR CHANGE: THE UNFORESEEN CHALLENGES OF A BIM TRANSFORMATION
     Steve Nonis, OAA, AANB, MRAIC, LEED AP, CanBIM P3
     Turner Fleischer Architects – Principal

French Webinars
January 30 - MDB ET RESPONSABILITÉ DE L'ARCHITECTE AUTOUR DU BIM : D'OÙVENONS-NOUS, OÙ ALLONS-NOUS ?
     Anik Shooner
     Menkès Shooner Dagenais LeTourneux Architectes – architecte
     Pierre-Stéphane Poitras, s.e.n.c.r.l.
     Gilbert Simard Tremblay – avocat
Thank you to our January Sponsor:

The Canada BIM Council serves as Canada's business voice for the architecture, engineering, construction, owner, operator and education community who are working collectively to adopt and implement digital technologies and practices.
buildingSMART Canada is the Canadian chapter of buildingSMART international and provides the appropriate home for Canadian BIM standards development and promotion of BIM awareness in Canada. 
---
February 2019 - Energy + Architecture
Energy Webinars
English Webinars
February 6 – FAST ENERGY MODELING IN EARLY DESIGN
     Trevor Butler, PEng, CEng, LEED AP BD+C
     archineers - CEO and President
February 13 – HIGHLY INSULATING, NON-COMBUSTIBLE ENCLOSURES AND 'THERM'
     Stephen Pope, OAA, FRAIC, Assoc ASHRAE
     CSV Architects – Sustainability Consultant
February 20 – NET ZERO BUILDINGS THE EASY WAY
     Jacob Komar, PEng
     Revolve Engineering Inc. – Principal and lead mechanical engineer
February 27 – NET ZERO ENERGY BUILDING: PROCESS DRIVEN DESIGN
     Kevin Van Hartingsveldt, Dipl.T.(ARCH.), LEED AP, PMP
     mcCallumSather – Associate 
     Kristen Yee Loong, P.Eng, LEED AP BD+C
     RDH Building Science – Associate, Energy and Sustainability Specialist 
Thank you to our February Sponsor:
Owens Corning (NYSE: OC) develops, manufactures, and markets insulation, roofing, and fiberglass composites. Global in scope and human in scale, the company's market-leading businesses use their deep expertise in materials, manufacturing, and building science to develop products and systems that save energy and improve comfort in commercial and residential buildings. Through its glass reinforcements business, the company makes thousands of products lighter, stronger, and more durable. Ultimately, Owens Corning people and products make the world a better place. Based in Toledo, Ohio, Owens Corning posted 2017 sales of $6.4 billion and employs 19,000 people in 37 countries. It has been a Fortune 500® company for 63 consecutive years. 
---
March 2019 - Adaptive Reuse
Adaptive Reuse Webinars
English Webinars
March 13 – THE ROLE OF HERITAGE IN ADAPTIVE REUSE PROJECTS 
     Michael McClelland, OAA AAA FRAIC CAHP   
     ERA Architects – Principal
March 20 – ADAPTIVE RE-USE AS A CATALYST FOR SUSTAINABLE PLACEMAKING
     Megan Torza, OAA, MRAIC, LEED AP BD+C
     DTAH – Partner
March 27 – A CASE STUDY IN THE TRANSFORMATION AND REHABILITATION OF TWO LANDMARK COMMERCIAL BUILDINGS INTO NEW FACILITIES FOR THE HOUSE OF COMMONS
     David Clusiau, B.E.S., B.Arch., OAA, FRAIC, LEED AP
     NORR – Vice President, Architectural Design - Canada
April 3 – CONTEMPORARY INTERVENTIONS ON HERITAGE BUILDINGS (English presentation)
     Stephan Chevalier + Sergio Morales
     Chevalier Morales Architectes – Principals
March Webday Bundle  –  CLOSED (APRIL BUNDLE COMING SOON!)
Webday Wednesdays English-language series are now available for purchase as monthly bundles. Save yourself the time of individual registrations and get one of the webinars for free! 
The English-language session on April 3 (Chevalier Morales) is included in the March bundle. 
Please note that Webday 2019 member-renewal vouchers cannot be applied to bundles.   
French Webinars
April 3 – INTERVENTIONS CONTEMPORAINES SUR DES IMMEUBLES PATRIMONIAUX (French presentation)
     Stephan Chevalier + Sergio Morales
      Chevalier Morales Architectes – Principals 
---
April 2019 - Architectural Design Processes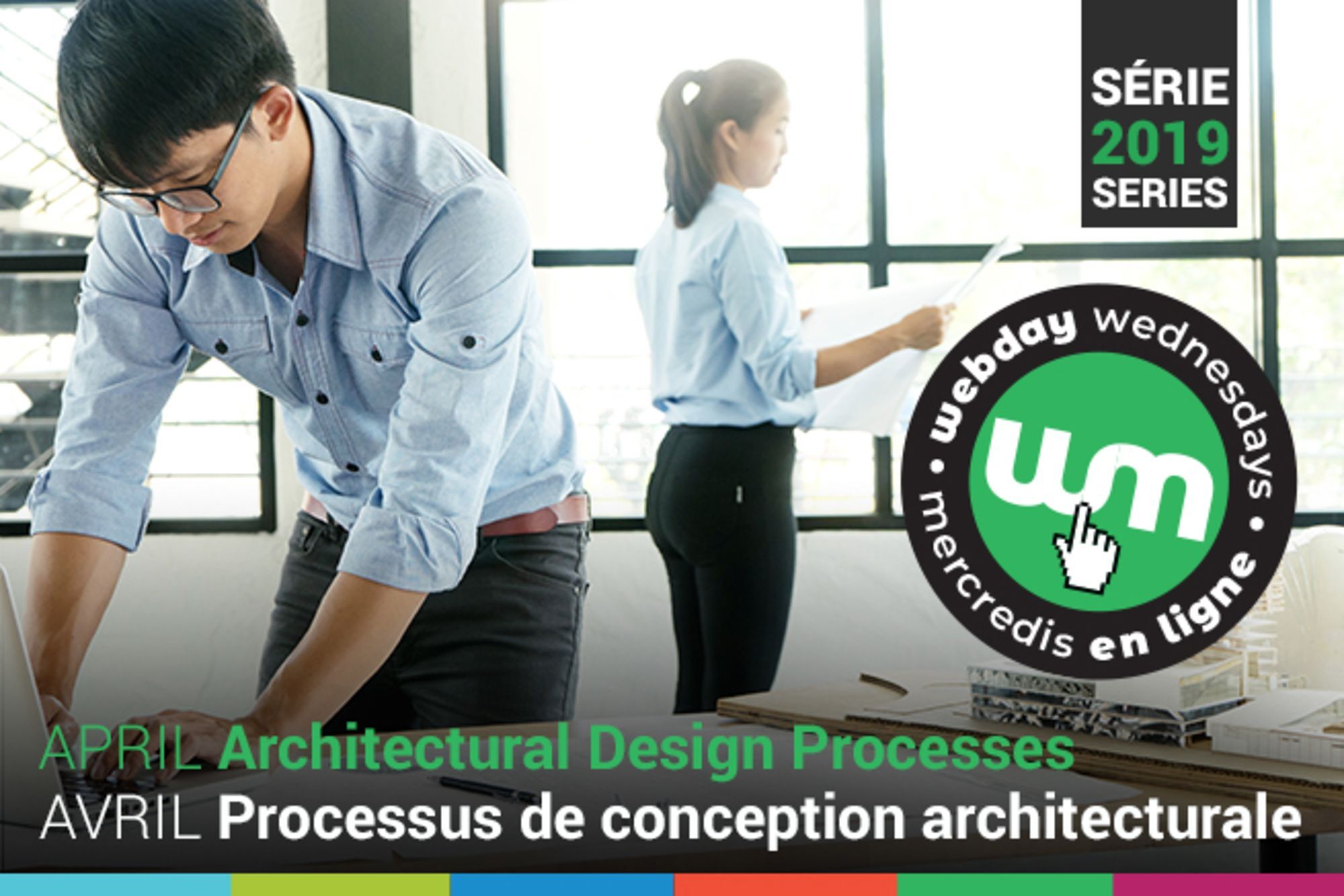 Architectural Design Processes Webinars
April 10 – EXPANDING CONTEXT: UNDERSTANDING USER NEEDS TO INFORM DESIGN 
     Erin Corcoran,OAA
     Gensler – Architect and Design Strategist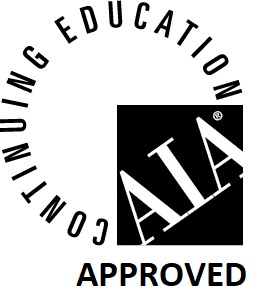 April 17 – RETHINKING COMMUNITY ENGAGEMENT FOR DESIGN
     Paul Fast, MRAIC, Architect AIBC, AAA, OAA+ Marni Robinson, MSc, BA (Hons)
     HCMA – Principal + Director of Community and Stakeholder Engagement
April 24 – CONVERGENCE OF ART AND ARCHITECTURE IN PRACTICE AND EDUCATION 
      Andrew King, FRAIC, Prix de Rome
      Lemay –Senior Partner + Design Principal
---
May 2019 - Advanced Building Envelopes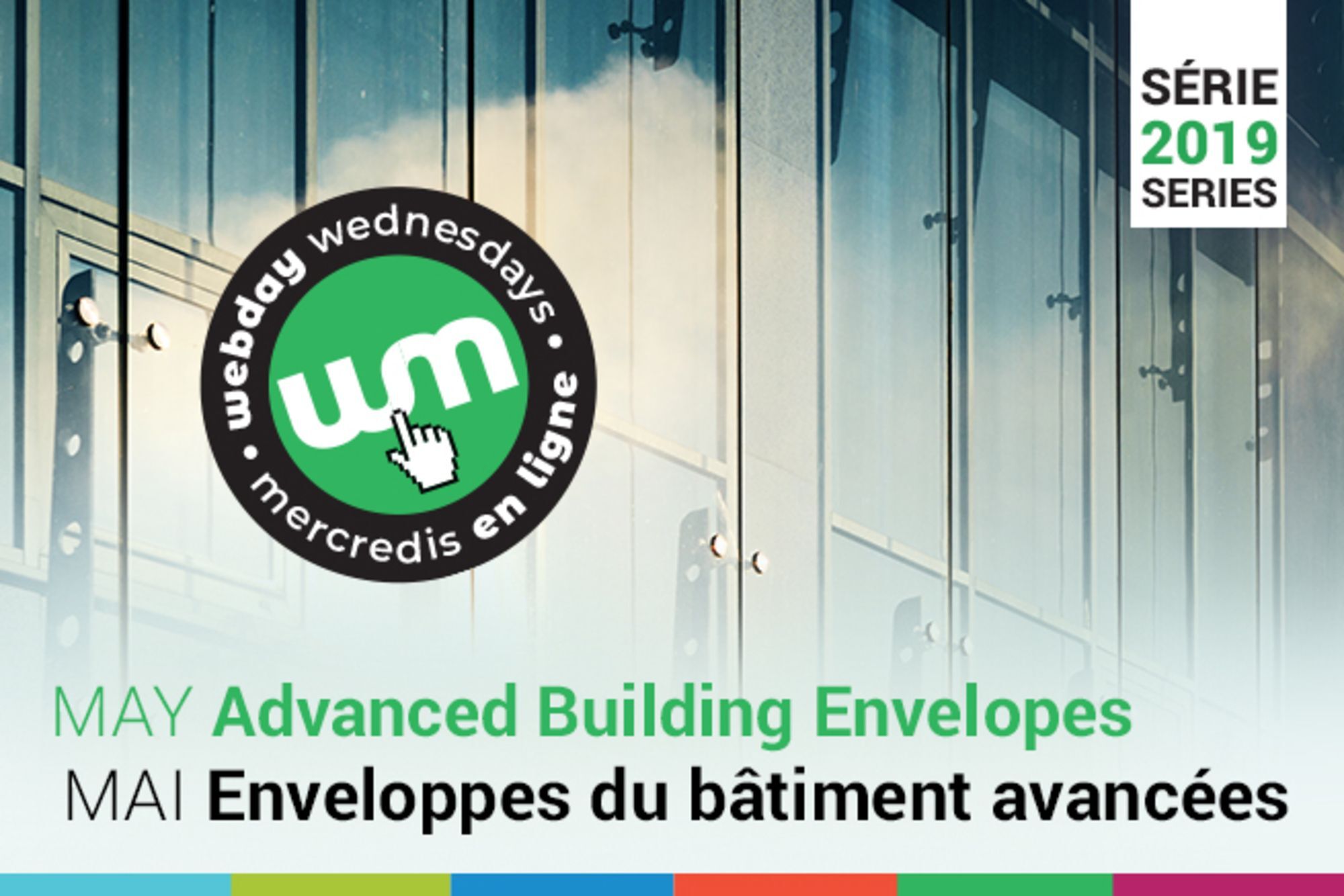 Advanced Building Envelopes Webinars
English Webinars
May 1 – S, M, L, XL –DIFFERENT ENVELOPES, SAME CRITERIA
Deborah Byrne, CPHD, CEng, BEng, MIEI
Director of Passive House Design, Kearns Mancini Architects 
May 8 – CHALLENGES AND OPPORTUNITIES OF REVITALIZING AGING FAÇADES
Rob Wood, P.Eng.
President, C3 Specialty Glazing Solutions
May 15 –  ADVANCED BUILDING ENVELOPES SIMPLIFIED: FOUR CONTROL LAYERS 
Kathleen Narbonne, MSc., Certified Passive House Designer, LEED Green Associate
Building Scientist, Sustainable - Architecture for a Healthy Planet
May 22 – AFFORDABLE MULTI-RESIDENTIAL PASSIVE BUILDINGS - LEARNING FROM EXPERIENCE
Emma Cubitt , MArch, OAA, MRAIC, LEED ®AP 
Principal, INVIZIJ ARCHITECTS INC. 
May 29 – TWO WALL ASSEMBLIES FOR PASSIVE HOUSE COLD CLIMATES
Stephen Pope, OAA, FRAIC, Assoc Member ASHRAE
Sustainability Consultant, CSV Architects
For more information contact Camille Rivard: crivard@raic.org 
---
Click here to return to the Webday Wednesdays page.