What architecture or urban design issue would you like to see addressed in the political arena this fall? Use the hashtag #RAICVOTES on social media to let us know.
Whether in a village or a large city, the way we plan, design, build and integrate our buildings and infrastructure has a significant impact on quality of life, the economy and the environment.
Buildings and infrastructure that are durable, attractive, dignified and healthy represent a smart investment in Canada's prosperity and liveability. The federal government is Canada's single largest owner of buildings and land. As such, it has a central role in setting the highest standards of excellence and environmental sustainability to maximize the benefits to Canadians, achieve value for money and position Canada as an international leader.
The Royal Architectural Institute of Canada (RAIC) is the voice of the architecture profession in Canada and advocates for excellence in the built environment. During the 2015 election campaign, the RAIC seeks to engage political candidates, along with the public, in a discussion about the importance of architecture and urban design in shaping a successful future for Canada.
The RAIC has highlighted four public policy issues and asks four questions.  Responses will be posted on the RAIC website for the benefit of RAIC members and all voters.
The Conservative Party of Canada have been contacted and the RAIC is awaiting their responses.
Sustainable Future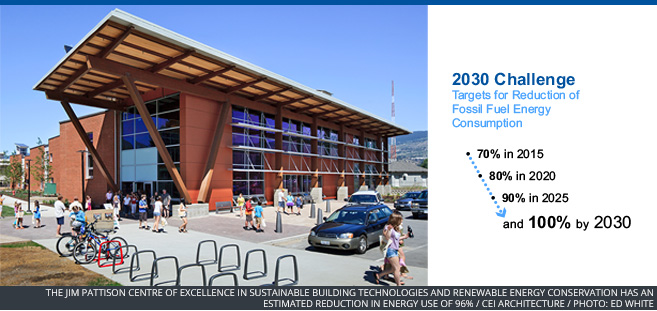 Canadian architects have demonstrated through completed projects that energy consumption and associated costs can drop dramatically. The Royal Architectural Institute of Canada endorses the 2030 Challenge, a set of targets for reducing greenhouse gas emissions from buildings and dependency on fossil fuels. The 2030 Challenge proposes that all new buildings, developments, and major renovations be carbon-neutral by 2030. In addition to a reduction in energy consumption, the benefits include an improved and healthier environment for workers and the surrounding neighbourhood.
Question: Do you support the 2030 Challenge for new or majorly renovated federal buildings?
Liberal's Response
A Liberal government will share your commitment to a sustainable future by reducing greenhouse gas emissions in order to achieve Canada's targets. We welcome all industries that want to make measurable progress on achieving this goal, including the 2030 Challenge. We know that catching up on sustainability must be an urgent priority of the next federal government, which is why we committed that under a Liberal government, Justin Trudeau will attend the December 2015 United Nations Climate Change Conference in Paris, invite the Premiers, and—within 90 days of the conference—ensure a First Ministers meeting will be held to work together on a framework to combat climate change.
 
A Liberal government will also invest heavily in creating clean jobs and investment. Canada can be the world's most competitive tax jurisdiction for investments in the research, development, and manufacturing of clean technology. We will consult on ways to enhance the scientific research and experimental development tax credit – in conjunction with other tax measures – to generate more clean technology investment. We will proactively work with provinces and firms to fight for every dollar of global investment, and will bring more clean technology companies and investment to Canada. We will establish the Canada Green Investment Bond to support both large- and community-scale renewable energy projects, leveraging the federal government's ability to provide more affordable loan guarantees for clean energy projects and providing Canadians with the opportunity to invest in clean technologies.
 
In the last decade, Canada's environment has suffered. This government has failed to deliver a sensible, credible approach to the environment and the economy. The simple fact is that in 2015, pretending that we have to choose between the two is as harmful as it is wrong. Canadians cannot afford to let this inaction continue; the cost is too high. The Liberal plan will ensure that Canada can tap into the economic opportunities of our environment and create the clean jobs of tomorrow. Thank you for your organizations contributions towards creating clean jobs, protecting our environment, and a more sustainable future.
NDP's Response
The NDP has a concrete plan for Canada to meet our international obligation to address Climate Change. As set out in Jack Layton's Climate Change Accountability Act which was reintroduced in the last Parliament, the NDP's target for Canada's greenhouse gas reductions is to achieve 80% below 1990 levels by 2050. We are proud to have the strongest targets of any party.
 
We know that the federal government has a responsibility to start working on reducing greenhouse gas emissions in our own backyard. This includes ensuring that new federal buildings meet tough environmental standards, creating a firm plan to replace federal vehicles with electric powered fleets, and retrofitting federal properties to make them more energy efficient. A long-term, sustainable approach to federal procurement and working towards carbon-neutral buildings can actually save taxpayers money in fuel, heating and maintenance. An NDP government will make this a priority.
 
The global community is going to hammer out a climate change deal in Paris in December, and Canada has to be there with a plan to reduce our emissions that will bring the whole country together. Tom Mulcair has committed to taking leadership on climate change and has repeatedly stated that one of his first official acts as Prime Minister of Canada will be to attend the Paris conference with national targets for greenhouse gas reductions and a plan to fight climate change.
Green Party's Response
The Green Party has an ambitious plan to reduce greenhouse gas emissions from federal buildings. We support the 2030 challenge for carbon neutrality in new federal building construction and renovation. Greens will unleash an army of carpenters, electricians and contractors to take outdated and inefficient public buildings – schools, universities and hospitals – and plug the energy leaks that increase greenhouse gases and costs. These changes alone will reduce carbon emissions by 30 percent nationwide. Over the long term, the Green Party will aim for Canadian carbon neutrality by 2050. To achieve this goal, the federal government must lead the way.
Bloc Québécois Response
The Bloc Québécois has made the fight against climate change a priority and has called on the Conservative government for years to respect its signature on the Kyoto Accord and to take the necessary steps to meet the greenhouse gas (GHG) emission reduction targets identified in it by the international community. The Bloc Québécois welcomes initiatives such as the RAIC's 2013 Challenge aimed at making buildings more energy efficient.
 
Moreover, the Bloc Québécois has developed a GHG emissions plan that includes a policy for reducing dependency on oil and promoting transportation electrification as well as increased funding for greener residential, commercial and industrial buildings and introducing tax incentives for installing or converting clean heating systems via geothermal energy and hydroelectricity.

First Nations

The federal government exercises almost total control over the design and construction of First Nation communities on reserves. Some of these settlements have been unfavourably compared to third world situations, or to refugee camps.  Basic services such as fire protection and potable water are often unavailable. Planning and design that take architectural expression, economic sustainability, and environmental conservation into account can improve the situation and have been shown to have a transformative effect in some of Canada's more successful communities.
Question: How should Canada address this situation?
Liberal's Response
The Liberal Party of Canada recognizes that First Nations housing is in a state of crisis. The Auditor General and internal government analyses show that Aboriginal housing shortages are severe and only getting worse under the Conservatives. This crisis was compounded when the Conservatives cancelled the historic 2005 Kelowna Accord—which included federal funding for both on- and off-reserve housing as a major component—in 2006, despite the fact that it was urgently needed and had been negotiated with and received buy-in from Aboriginal governments, the provinces, and the territories.
 
Liberals know that Canada only succeeds when we all succeed. Indigenous Peoples are the fastest growing segment of our population, and it is critical to our shared future that they have the same opportunities as everyone else. A Liberal government will ensure a renewed, nation-to-nation relationship between the federal government and Indigenous Peoples; recognize First Nations, Métis Nation, and Inuit communities as full partners in the federation; and work with Indigenous Peoples to create fairness and equality of opportunity.
 
We know that the federal government needs to stop diverting already inadequate First Nations infrastructure funding to plug other holes, lift the 2% funding cap and work in partnership with Aboriginal communities to improve this untenable situation. Which is why a Liberal government will immediately lift the two percent cap on funding for First Nations programs and re-engage with Indigenous communities in a renewed, respectful, and inclusive Nation-to-Nation process to advance progress on critical issues such as access to adequate housing.
 
Further, a Liberal government will take real action to close the persistent and unacceptable gaps in education and economic outcomes for First Nations. We will make an immediate investment in First Nations education, which includes an additional $515 million per year in core annual funding for First Nations K-12 education, rising to over $750 million per year by the end of our first mandate; $500 million over the next three years for First Nations education infrastructure; and $50 million in additional annual support to the Post-Secondary Student Support Program (PSSSP). We will also ensure a return to the principles and objectives of the Kelowna Accord and re-engage with First Nations, Métis Nation, and Inuit communities in a renewed, respectful, and inclusive Nation-to-Nation process to advance progress on critical issues such as housing, infrastructure, health and mental health care, community safety and policing, child welfare, and education.
NDP's Response
Only through a Nation-to-Nation relationship can we truly respect and include First Nations culture, architectural expression and values into federal government decisionmaking processes. Under an NDP Government, federal investment in First Nations education will be increased substantially, and with this new funding we will implement more collaborative and inclusive processes that engage communities in the process of determining how investment in educational facilities will be put to use. The NDP will also transfer significant levels of new funding for housing and core local infrastructure in First Nations communities. Indigenous governments will have more autonomy over the design and construction of their local infrastructure priorities.
 
The NDP will create a cabinet-level committee, chaired by Tom Mulcair as Prime Minister, to ensure that all government decisions respect treaty rights, inherent rights, and Canada's international obligations, starting with the principles of the United Nations Declaration on the Rights of Indigenous Peoples. We will take action on the Truth and Reconciliation Commission's recommendations on a priority basis established in consultation with Indigenous communities, and we will call a national inquiry into the issue of the 1,200 missing and murdered Indigenous women.
Green Party's Response
Canada's most pressing challenge is to address the profound inequality between many Indigenous communities and the rest of the country, and the Green Party is committed to closing this gap. We will change the way decisions are made in Canada through the creation of a Council of Canadian Governments that will fully engage on a nationtonation basis with First Nations, M étis and Inuit. With representation from federal, provincial, territorial, municipal and Indigenous governments, the Council will develop shared national goals poverty reduction, restoring health care, solving the climate crisis, etc and collaborate on collective solutions that leverage each jurisdiction's own policy tools.
 
The Green Party will implement all the "Calls to Action" of the Truth and Reconciliation Commission that are within federal jurisdiction. These recommendations serve as the means to work with Aboriginal communities to begin to overcome the historical and ongoing injustices of brutal colonialism and cultural genocide. Greens will swiftly implement the UN Declaration on the Rights of Indigenous People. We will also restore the landmark Kelowna Accord, and the corresponding $5.1 billion commitment, to improve education, housing, health care, employment, and living conditions for Aboriginal peoples in Canada. We will remove remove the 2% cap on funding for Aboriginal education.
 
All peoples of Canada First Nations, Métis, Inuit, and otherwise deserve access to highquality, sustainable infrastructure that supports healthy, safe, and livable communities.
Bloc Québécois Response
In the view of the Bloc Québécois, the Aboriginal question must be addressed in its entirety, given the social and global issues involved. The recommendations of the Truth and Reconciliation Commission provide an overall picture of the issues and actions to be taken, like the Erasmus-Dussault Report before it.
The Bloc Québécois demands that the federal government demonstrate its willingness to work with the Aboriginal Nations now:
By acknowledging that the assimilation policy of the Canadian government's residential schools should be defined as cultural genocide;
By signing the United Nations' Declaration on the Rights of Indigenous Peoples;
By investing in Aboriginal education;
By investing in improved housing on First Nations reserves;
By establishing a National Reconciliation Council that will work with Quebec and the other provinces to implement the recommendations.

Smart Investment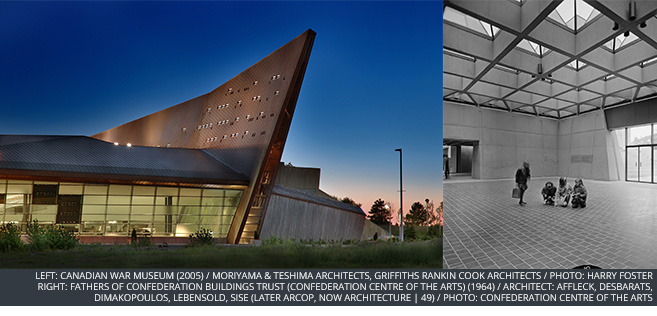 The federal government annually spends millions of dollars on buildings and infrastructure. This investment in Canada's future can also be an investment in the quality of cities and towns, at no extra cost to taxpayers. Distinctive, solidly-built public buildings help shape places whose beauty and character attract tourism and international recognition. They become treasured landmarks, a reflection of national identity, and the valued heritage buildings of the future.
Question: Do you agree design excellence must be a high priority for federally funded projects?
Liberal's Response
Liberals value the liveability of our cities, and this includes contributing to the ongoing nation-building that creates treasured landmarks. We recognize that architecture has the capacity to reflect our heritage, our history, and our culture. It has to potential to speak to who we are as a society and can play a fundamental role in forging our national identity.
 
Our party is deeply committed to supporting Canada's cultural sector. We recognize that, in addition to being an economic driver and job creator, nation-building ensures that Canadian culture is preserved and promoted, attracting both national and international recognition.
NDP's Response
The NDP agrees that design excellence should be a high priority for federally funded projects while also ensuring that projects are prudent investments of public dollars. That's why, when the Conservative Government announced there would be no architectural competition for the replacement of the Champlain Bridge, one of Canada's busiest bridges, the NDP publicly expressed regret and denounced the lack of vision for that decision.
 
Similarly, the recent Conservative decision to impose an unwanted monument to the victims of communism in downtown Ottawa has sparked another local controversy, yet the government is pushing ahead against the wishes of the city. We need a federal government with a greater respect for culture and design.
 
Far too often the federal government imposes its public works initiatives without proper community consultation, respect for local contexts and neighbourhood character, and without adequate engagement with outside design experts. The NDP is open to working with provinces, territories and municipalities to improve the dialogue, debate and input into the creative processes that contribute to building better communities.
Green Party's Response
When it comes to projects funded by Canadian taxpayers, nothing less than excellence is acceptable. Federal buildings do more than house important services; they are expressions of our national identity to the world. Each new building presents an opportunity to bring communities together, foster economic growth, promote sustainability, boost tourism, encourage cultural engagement, and make our communities more livable. They are also a chance to engage with Canadian architects and designers and support a valuable, homegrown industry that is the envy of the world. The Green Party agrees that design excellence must be a priority for federally funded projects.
Bloc Québécois Response
The Bloc Québécois believes that the government must assume a leadership role in architectural development that prioritizes buildings that reflect the Canadian reality. For instance, the Bloc Québécois has tabled a bill several times seeking to promote the increased use of wood in federal buildings to underscore the importance of our forests in Quebec's history and development.

Community Mailboxes
Quality design of public spaces contributes to making safe, attractive and prosperous cities. Nevertheless, Canada Post is installing community mailboxes that are widely seen as a blight on the streetscape, a public safety hazard and an obstacle to the elderly and disabled.
Question: Is this the right decision for Canadian communities? If not, what solution can the federal government bring?
Liberal's Response
Our party does not believe that Canada Post considered all alternatives or that the Corporation adequately consulted with Canadians—particularly seniors or those with disabilities—prior to unveiling its new Action Plan. We also strongly disagree with the Conservative decision to ask Canadians to pay more for a reduced quality of service.
 
A Liberal government will stop the Harper Conservatives' plan to end door-to-door mail delivery in Canada. We will begin a new review of Canada Post to ensure that the Crown Corporation is fulfilling its public mandate to provide high-quality service at a reasonable cost to Canadians —urban, suburban, and rural.
 
A Liberal government will bring a new approach to government. We will focus on the needs of Canadians and will commit ourselves to providing better services to Canadians and ensuring the federal government rebuilds its capacity to deliver on evidence-based decision-making. This includes higher standards and a better client experience for Canadians when they interact with government. We will also guarantee quality and timeliness in the delivery of services. Under a Liberal government, Canadians will once again be able to trust their government that their government will make policies based on facts, consultation, and the needs of Canadians.
NDP's Response
Canadian municipalities have been clear: they don't want the elimination of home mail delivery and they don't want Canada Post to impose 100,000 community mailboxes in their communities. The elimination of home delivery will hurt seniors and Canadians with disabilities the most, but will also add particular challenges like: increased garbage, inadequate lighting, and the disruption of valuable park and pedestrian spaces in urban areas.
 
Only the NDP will stop the Conservative plan to eliminate home delivery for 5 million households, and restore home delivery for the 1 million households where it was already cut. The Liberals won't restore home delivery to households who are already losing it this year, and the Conservatives didn't even ensure that community mail boxes were designed and made in Canada. New Democrats will consult and engage with Canadians in a meaningful way to find ways to expand and modernize postal services instead of cutting and eliminating services. Under the NDP, Canada Post will have to create a new plan that does not eliminate home delivery and impose 100,000 community mail boxes into dense urban areas.
Green Party's Response
Canada Post is a Canadian institution. What it needs is new thinking in order to stay profitable and relevant. The decision to impose community mailboxes on Canadians without adequate consultation is anything but that. The shift to community mailboxes will disproportionately affect the elderly and Canadians living with disabilities, for whom home delivery of letters and parcels provides a critical link. Walking or driving to a community post box is a luxury not every Canadian can afford.
 
The Green Party has called on Canada Post to explore other options for growth and innovation, including an expansion of postal banking services, which would be of particular benefit to small and rural communities.
Bloc Québécois Response
Stopping door-to-door mail service and randomly introducing community mailboxes into the landscape will penalize society's most vulnerable groups such as people with disabilities and seniors. It will also lead to job losses for some 8,000 workers over the next five years and will create conflicts with local authorities, as recently seen with the Mayor of Montreal.
 
In the opinion of the Bloc Québécois, Canada Post must offer universal local service with uniform rates throughout the country. To that end, a number of cities have already adopted resolutions to maintain door-to-door delivery. The Union of Quebec Municipalities (UMQ) has denounced this unilateral decision by Canada Post, stating that it will hurt the regional economy. The Bloc Québécois supports the municipal consensus in Quebec and therefore demands that Canada Post immediately put an end to its community mailbox installation program in favour of an approach that allows the Quebec postal service to innovate, adapt to the different regional realities, and become a public service that reflects current market needs and demands.