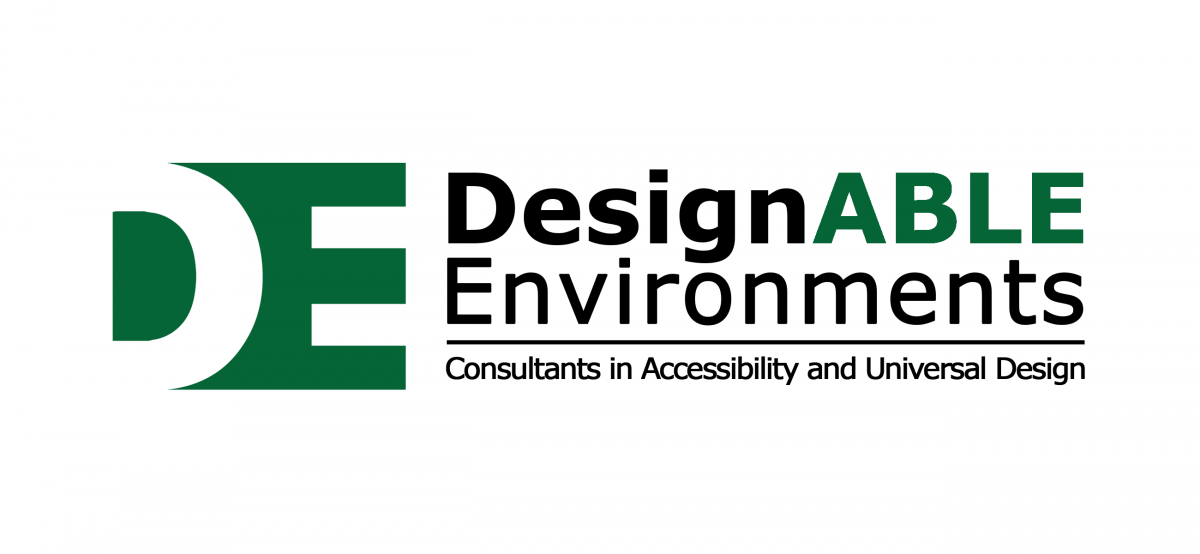 DesignABLE Environments Inc. (DE) is one of Canada's oldest and leading consulting firm that provides expertise to public and private sector clients on how to design the built environment to meet the needs of all people, including persons with disabilities and the elderly. DE has been instrumental in developing and popularising the philosophies of both barrier-free and universal design. 
As design consultants, we seek to ensure that facilities are fully accessible to as broad a spectrum of users as possible. We believe that a successful environment is free of barriers that inhibit freedom of movement or compromise function. Having specialized in universal design for so long and helped clients consult with disabled people, we are excited that the new Accessible Canada Act is also championing the "Nothing Without Us" approach.  In this way, we strive to enhance the usability of buildings and environments for everyone.  DE helps to incorporate the diverse needs of all disability groups, including people with mobility disabilities, people who are blind or have vision loss, people who are Deaf, deafened or have hearing loss, people with cognitive disabilities, people with environmental sensitivities, as well as the elderly.
DE provides a variety of responsive services to a diverse client base. DE supports the work of project design teams for new or renovation projects by ensuring that team members understand the needs of all user groups. DE works to develop universal design opportunities within the architectural program by translating the needs of diverse populations into tangible design requirements. DE also provides specific technical assistance such as product research and drawing reviews, working with the project team to ensure accessibility is implemented within the realities of the project budget and other requirements. And when not doing research, DE staff are helping every level of government and large organizations and corporations to write built environment accessibility design standards or guidelines. 
Whatever we work on, DE strives to ensure that access into and within any facility is provided in a manner that is usable and ensures dignity of all people while also respecting the functional requirements, the demands of the architectural program and the unique design character of the building. To accomplish this DE encourages barrier-free design features in every phase and stage in the design of facilities and spaces to ensure that accommodations and amenities are well integrated and beautiful. Our role as a consultant is to ensure our clients have all the information they need to help them maximize the functional independence of all of their customers, staff, visitors and other users, in a dignified and integrated manner. 
For more information, please visit www.designable.ca.