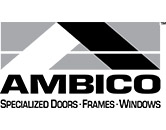 AMBICO LIMITED manufactures leading edge, laboratory tested, specialized doors, frames and windows. They have developed an extensive line of decorative and engineered products. Their network of independent representative agencies and distributors enhances their ability to provide dedicated client service throughout the world.
Their performance-rated door and frame products include the following: acoustic doors and frame assemblies, blast resistant door and frame assemblies, bullet resistant doors and frames as well as stainless steel doors and frames. AMBICO's in-house designers and engineers work with AEC professionals from the earliest conception of a building all the way through product supply and installation.
AMBICO works globally with architects, engineers licensed manufacturers, distributors and representatives to provide a full suite of products and support services in the field of specialized doors and frames.