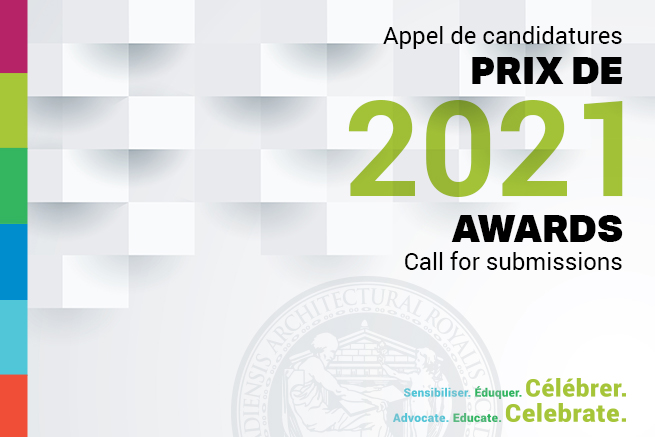 Submission details
Entry Fee:
$75 plus applicable taxes
Eligibility:
The Allied Arts Medal shall be awarded:
for recognition of outstanding creative achievement in the arts in any medium which are allied to architecture; for example, mural paintings, sculpture, decoration, stained glass, industrial design, etc.
for artwork in Canada, created by a Canadian resident.
for artwork anywhere, created by a Canadian artist.
Nominations must be made by an RAIC member. View the RAIC membership forms.
Submission Requirements:
Submissions will be completed using the NEW online submission platform.
Submissions must be received before 11: 59 p.m. EST, Friday, January 22, 2021. Entrants are solely responsible for timely submissions. This date and time are firm without exceptions.
Instructions:
The following items must be completed or provided:
Completed submission form;
Submission entry fee;
A report which, summarizes the contributions of the artist to the field of architecture (not to exceed three pages). The report should cover significant contributions made by the artist to architecture;
List of the artist's significant works which have contributed to architectural projects;
Background information such as awards, media clippings, publications, copies of articles from journals, etc.
A 100-word media statement crafted for website postings and media campaign requirements.
A 500-word description outlining the achievements and significance of the contributions. This text should be conceived to be accessible to the general public.
Images representing the artist's work, which will include projects completed during the last ten years or more.
A numerical index listing all photos and providing full photo credit information, including photographer/agency name.
A signed declaration by the artist.
Entries can be submitted either in English or in French.
It is understood that the material provided within the submission will be utilized by the RAIC for publication and promotional purposes.

All winning entries will be retained by the RAIC for publication, exhibition and archival purposes. Unsuccessful entries will not be returned.
Note: Once you have started the online submission process, you may 'save' and come back at a later date to complete your submission (prior to the submission deadline).

Selection Process:
The RAIC Awards committee shall prepare a list of jurors. The Jury shall forward its decision to the RAIC Board of Directors regarding the individual(s) to receive the award. The President of the RAIC shall bestow the award.
Number of Awards:
One award will be conferred biannually at the jury's discretion.
At its discretion the Jury may elect not to confer an award.
The award shall be a medal, with the RAIC emblem and inscribed on the reverse:
 
Name of Recipient
AWARD OF EXCELLENCE
THE ALLIED ARTS
(insert year)
Frequency:
The award is to be offered every two years.
Public Presentation:
The presentation of the RAIC Awards of Excellence – Allied Arts Medal for Architecture will be made at the RAIC Conference on Architecture or another suitable event.
For more information:
Tel.: 613-241-3600, ext. 2015
Fax: 613-241-5750
E-mail: awards-prix@raic.org
Other Links
---
International Newswire Partner