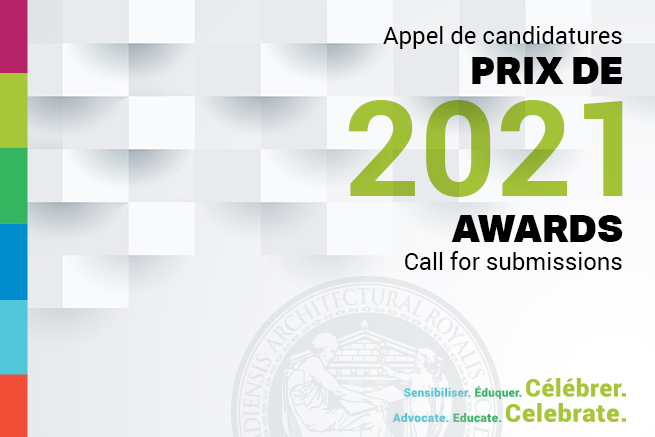 Submission details
Entry Fee:
Not applicable
Eligibility:
Any individual resident of Canada is eligible for this award.
Submission Requirements:
Submissions will be completed using the NEW online submission platform.
Submissions must be received before 11: 59 p.m. EST, Friday, January 22, 2021. Entrants are solely responsible for timely submissions. This date and time are firm without exceptions.
Instructions:
The following items must be completed or provided:
A nomination form signed by the five nominators who are RAIC members;
A current résumé of the nominee;
A two-page report, summarizing the activities of the individual, that demonstrates ongoing commitment to and support for, architects and the architectural profession;
Letters of support from five architects, not necessarily the nominating architects;
Supporting material, which can include background information such as awards, media clippings, publications, copies of articles from journals, images, etc., not exceeding 25 pages;
A numerical index listing all photos and providing full credit information, including photographer/agency name;
A signed declaration by one of the RAIC members.
Entries can be submitted either in English or in French.
It is understood that the material provided within the submission will be utilized by the RAIC for publication and promotional purposes.

All winning entries will be retained by the RAIC for publication, exhibition and archival purposes. Unsuccessful entries will not be returned.
Note: Once you have started the online submission process, you may 'save' and come back at a later date to complete your submission (prior to the submission deadline).

Selection Process:
The Awards committee shall prepare a list of jurors. The Jury shall forward its decision to the RAIC Board of Directors regarding the individual(s) to receive the award. The President of the RAIC shall bestow the award.
Number of Awards:
At the discretion of the Jury, award(s) will be conferred biannually.
At its discretion the Jury may elect not to confer an award.
The award shall be a medal, with the RAIC emblem and inscribed on the reverse:
 
Name of Recipient
AWARD OF EXCELLENCE –ADVOCATE FOR ARCHITECTURE
(insert year)
 
Frequency:
The award is to be offered every two years.
Public Presentation:
The presentation of the RAIC Awards of Excellence – Advocate for Architecture will be made at the RAIC Conference on Architecture or another suitable event.
For more information:
Tel.: 613-241-3600, ext. 2015
Fax: 613-241-5750
E-mail: awards-prix@raic.org
Other Links
---
International Newswire Partner