Award Category:
Awards of Excellence
Advocate for Architecture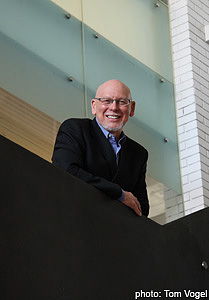 Chief Executive Officer, Cambridge Libraries and Galleries
Greg Hayton has been instrumental in situating Cambridge, Ontario on the architectural map.  Working with architects such as Stephen Teeple, Donald McIntyre, Trevor Garwood -Jones and Janna Levitt, Hayton has brought his passion for art and contemporary architecture to bear in revitalizing his small community through a shared measure of civic courage and bold design. 
His commitment to quality buildings in Cambridge is most recently manifest in the acclaimed Hespeler Library designed by Alar Kongats. An historic Carnegie library boldly encased and expanded within an iconic cube of fritted glass, the resulting structure establishes a new standard for progressive architecture within the region.   The design was named one of the top 10 nationwide by Canadian Architect Magazine and in 2008 received an Ontario Association of Architects Award of Design Excellence.
In 2003, Hayton formed a partnership between the University Of Waterloo School Of Architecture and the Cambridge Libraries and Galleries to create a gallery of architecture and design. The gallery, designed by Levitt Goodman Architects, is one of only two publicly funded galleries dedicated to architecture and design in all of Canada and was honored with a 2008 Award of Design Excellence from the Ontario Association of Architects.  Most recently, Design at Riverside, served as the commissioning gallery for Canada's exhibit at the 2008 Venice Biennale of Architecture.
Hayton completed a Bachelor of Arts degree and a Master of Library Science at the University of Toronto, as well as a Master of Business Administration from The State University of New York at Buffalo. In 1997 he served as President of the Ontario Library Association. In addition to his administrative responsibilities in Cambridge, Hayton has worked as a library space planner on a number of projects and has made numerous presentations at conferences on budgeting, planning and working with politicians and architects.
Jury Comment(s):
Greg Hayton is an important significant advocate for architecture through consistent and ongoing support of architects and excellence in architecture.
Examples of his contributions are as follows:
Professional client in his support of many architecture firms through commissions for libraries and galleries;


 
The creation of the "Design at Riverside" gallery which is one of only two professionally staffed galleries in Canada dedicated to architecture and design (located within the relocated University of Waterloo School of Architecture in Cambridge, Ontario);


Some of his projects have received OAA awards of Design Excellence and published recognitions, also urban design awards etc.;


 
Host of the Canadian entry to the 2008 Venice Biennale in Architecture
 

Currently working on a current initiative to bring the Venice Biennale in Architecture event to a permanent site in the City of Cambridge;


 

Consistent advocate for public realm investment in good architecture;

He demonstrates that creative and supportive clients assists the creation of excellent architecture;


 

He has in impact as an advocate in architecture beyond his own region;


 

Very strong letters of support!