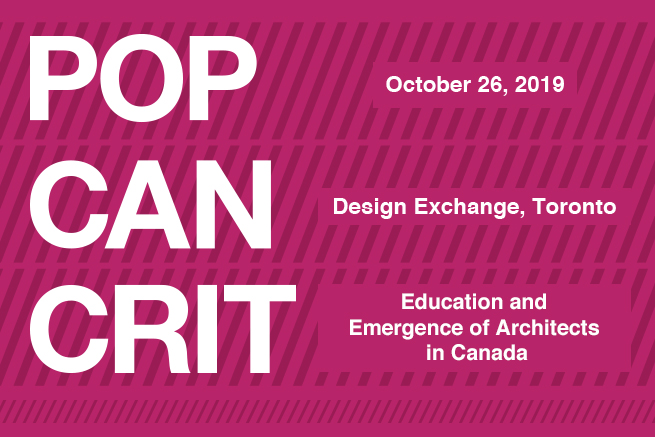 What is the future of architecture in Canada? Or rather, who is the future of architecture in Canada?
These are the questions that POP // CAN // CRIT 2019: Education and Emergence of Architects in Canada will explore. Join us for a day of panels and discussion on Saturday, October 26, at the Design Exchange in Toronto as we kick-start the 2019 RAIC Festival of Architecture.
Panel topics include The Student // The Intern, The Architect, and The Alternate.  Panelists will discuss student and intern experiences; disconnects between architectural education and practice; the needs of the emerging practitioner; mentorship, and opportunities for continuing education. Speakers will also look at alternative career paths for those educated but not licensed in architecture. The day will close with a roundtable on The Future of Architectural Practice + Education in Canada.
Confirmed Speakers
Stephan Chevalier, Toon Dreessen, FRAIC; Heather Dubbeldam, FRAIC; Zahra Ebrahim, Ksenia Eic, MRAIC; Omar Gandhi, MRAIC; Sascha Hastings, Andrew King, FRAIC; Elsa Lam, FRAIC; Lisa Landrum, MRAIC; Ana Maria Llanos, Ivan Martinovic, FRAIC; Sergio Morales, MRAIC; Richard Sommers, and John Stephenson, FRAIC.
Registration for POP // CAN // CRIT is available as a stand-alone event or in conjunction with RAIC Festival 2019. All attendees will receive online access to the event recording for one year and a RAIC Continuing Education Certificate of Attendance.
---
POP // CAN // CRIT is an annual national symposium that promotes excellence in architecture through constructive, critical, professional, and academic discourses on contemporary practice and its peripheries. POP // CAN // CRIT explores the in-between spaces of the profession to challenge the ways we see and understand architecture, current practices, contemporary issues, and to propose new solutions for the future of architecture in Canada.
Click here for information on past events.