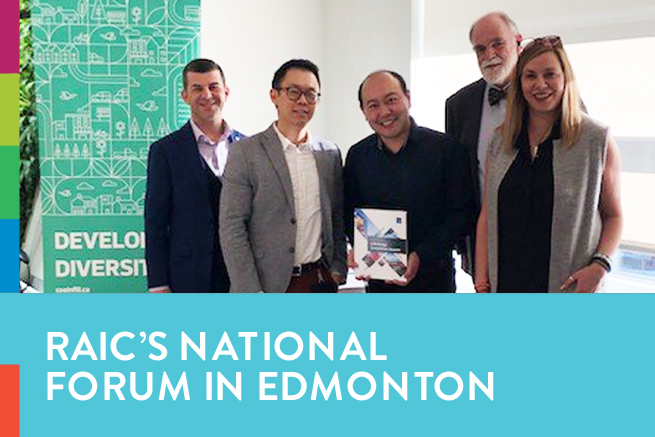 RAIC hosted a National Forum in Edmonton on December 6. The second in a series of pan-Canadian events, this event featured RAIC President, Michael Cox, FRAIC, and RAIC CEO Mike Brennan as well as special guests Barbara Bruce, Hon. MRAIC (Executive Director, Alberta Association of Architects) and Darryl Condon, FRAIC, AIBC Past President. Presentation topics included an update on the upcoming implementation of a federated chapter model for RAIC, information on the new professional liability insurance program for architects, an update from AAA, as well as an update on the Architectural Policy for Canada. Also in attendance were representatives from the City of Edmonton promoting the Missing Middle Infill Design Competition, an opportunity to test innovative new housing forms for the city.
In addition to the National Forum, RAIC hosted chapter stakeholder meetings in Calgary (December 4) and Edmonton (December 6) in preparation for the launch of the RAIC Alberta chapter in April 2019.
We would like to thank everyone who attended and participated in the events and give special thanks to RAIC members John Brown, FRAIC; Dale Taylor, FRAIC; Cynthia Dovell, MRAIC; and Basel Abdulaal, MRAIC for their assistance in the organization of the stakeholder meetings.
Stay tuned as RAIC organizes more National Forums across Canada in 2019. In the meantime, if you are interested in volunteering for RAIC chapters in British Columbia or Alberta, email Giovanna Boniface, Vice President of National Affairs, at gboniface@raic.org.