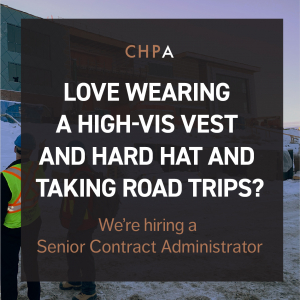 Job Description:
Dynamic | Diverse | Community
Join a culture of innovative and creative problem solvers working together to create cutting-edge design solutions in our award winning architectural and landscape architectural consulting practice. Always learning, not content with status-quo, we encourage individual and team development and continually exceed client expectations in various dimensions.
Each team member is truly valued with collaboration and open communication essential, plus opportunities for growth encouraged on a range of dynamic projects in the education, multifamily, health care and institutional sectors. Continually expanding, CHP's projects extend from the rugged west coast of Vancouver Island, to urban Vancouver and suburbs, through the Okanagan to BC's interior and beyond.
Don't get stuck in a rut – love where you work! Click on www.chparchitects.com to see your potential, and keep up with CHP culture on Instagram, Facebook, Twitter and the like!
Senior Contract Administrator / Field Services:
Seeking an experienced Contract Administrator who is proactive, detail-oriented, communicates well and has experience with the construction industry. They will review projects in the construction phase on-site to ensure conformity, coordinate changes, review shop drawings, lead site meetings and coordinate with the project team to ensure a smooth-running project.
The ideal candidate will be a team player who has:
• Minimum 2-year Architectural Technology Diploma, or equivalent
• Minimum 5 years experience with BC construction methods and projects
• Proficient knowledge in BC Building Code and its application to construction projects required
• Certificate in fire-stopping procedures
• Experience with reviewing shop drawings and processing construction administration paperwork
• Valid BC drivers' license, own vehicle and ability to drive throughout province
• Excellent English written, verbal and visual communication skills
• Organized, able to work well independently, flexible
This full-time position is available March 1 with a competitive salary and full health & dental benefits package offered. Apply by sending your cover letter and resume to chp@chparchitects.com. We thank all applicants for their interest, however only those selected for an interview will be contacted.
Source URL:
http://chparchitects.com/
Location:
Chilliwack / Abbotsford, BC
Skills:
Auto-CAD: Intermediate
Revit: Intermediate