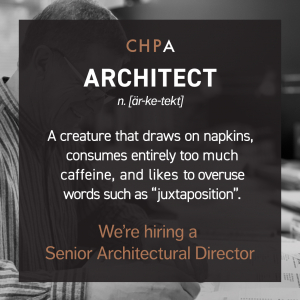 Job Description:
Dynamic | Diverse | Community
Join a culture of innovative and creative problem solvers working together to create cutting-edge design solutions in our award winning architectural and landscape architectural consulting practice. Always learning, not content with status-quo, we encourage individual and team development and continually exceed client expectations in various dimensions.
Each team member is truly valued with collaboration and open communication essential, plus opportunities for growth encouraged on a range of dynamic projects in the education, multifamily, health care and institutional sectors. Continually expanding, CHP's projects extend from the rugged west coast of Vancouver Island, to urban Vancouver and suburbs, through the Okanagan to BC's interior and beyond.
A few perks of why professionals and their families find this area ideal (https://youtu.be/GKYn3Z10UnI):
- located in the heart of Canada's warmest winter climate
- an outdoor mecca - surrounded by lakes, rivers, mountains, world-class fishing, golfing, hiking and skiing
- within an hour's drive of the ocean and downtown Vancouver
- affordable living in an outdoor paradise
- relief from commuter stress
Don't get stuck in a rut – love where you work! Click on www.chparchitects.com to see your potential, and keep up with CHP culture on Instagram, Facebook, Twitter and the like!
Senior Architectural Director:
Strength in leadership. Seeking an experienced Architect motivated to go to the next level in leading a dynamic, innovative architectural team. Creativity and innovation, with strong design abilities and visual communication skills are essential in producing design and construction documents for a diverse portfolio of educational, institutional, health care and multifamily projects across the province.
The ideal candidate will be a proactive team player who has:
• Professional degree in Architecture from an accredited minimum 6 year university program with minimum 10 years' experience in an architecture practice. License and registration with AIBC to practice in BC or ability to transfer current province's registration.
• Strong English written, verbal and visual communication skills required.
• Experience in multi-family and/or educational facility design and document preparation is beneficial.
• Demonstrated ability to effectively manage and direct medium to large scale institutional and multi-family projects, including management of team members, consultants and client liaison. Experienced in preparing and assembling complete construction documents for permit application and tender.
• Proficiency in REVIT and applicable graphic presentation and visualization programs an asset.
This full-time position is available Feb/Mar 2020 with a competitive salary, full health & dental benefits package and advancement potential offered. Apply by sending your cover letter, resume and a maximum of 10 page PDF format portfolio to chp@chparchitects.com. We thank all applicants for their interest, however only those selected for an interview will be contacted.
Location:
Chilliwack / Abbotsford, BC
Skills:
Auto-CAD: Expert
Revit: Expert