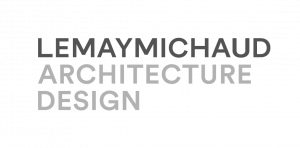 Organization:
LEMAYMICHAUD Architecture Design
Job Description:
LEMAYMICHAUD
ARCHITECTURE
DESIGN
The renowned firm LEMAYMICHAUD depends on the talent and skills of a team including architects, designers and technologists, all working together to accomplish complex and innovative projects.
We develop projects of all sizes in Québec and across Canada in the institutional, hospitality and commercial sectors. Reputed for all aspects in the practice of architecture, the firm maintains a notoriety envied by many for its innovative designs.
DOWNTOWN OTTAWA OFFICE
-Permanent
-Full-time (40 hours / week)
-Competitive benefits and salary
-Wellness and happiness budget
-Virtual healthcare service
RESPONSABILITIES
-Verifications and site survey of existing conditions
-Production of specifications documents
-Application of the firm's standards
-Construction-site coordination
-Strong collaboration with the Project Manager
QUALIFICATIONS
• College degree in Architectural Technology
• Minimum of 5-10 years of relevant experience
• Excellent knowledge of Revit, Autocad, Sketchup, Word and Excel
• Knowledge of the applicable codes and regulations
• Teamwork skills
• Ability to manage multiple projects simultaneously
• Fluent in French and English
Source URL:
https://www.lemaymichaud.com/
Location:
81, rue Metcalfe, suite 310,Ottawa (ON) K1P 6K7 Canada
Skills:
Auto-CAD: Intermediate
Revit: Intermediate
Required Languages:
English: Fluent
French: Fluent