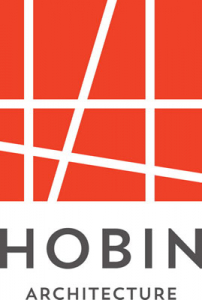 Job Description:
                             
HOBIN ARCHITECTURE   
                                                
________________________________________
   
                                              
Hobin Architecture is an accomplished architectural practice based in Ottawa. Over the past four decades the practice has steadily grown in size and stature in Ottawa and eastern Ontario. The firm has won numerous awards at the local, provincial and national level and continues to attract clients and talent.
We are looking for an experienced and talented individual who can strengthen the firm within their role as an Architect with our organization.
________________________________________
Attributes:
• High level of organizational skills.
• Client friendly with excellent communication skills.
• Strong interpersonal skills: verbal, listening and written.
• Collaborative and professional work ethic.
• Creative, innovative, driven and ambitious.
Skills and Qualifications:
• Masters degree from an accredited university Architectural program.
• Minimum of 5-10 years of working experience in architecture.
• Must be a licensed architect with the Ontario Association of Architects (OAA).
• Proficiency with AutoCAD and Revit; Sketch-up Modeling is an asset.
• Previous experience with Institutional, or Long term care/Healthcare facility projects are a strong asset.
• Demonstrated strong conceptual and design talent.
• Sound understanding and working knowledge of Ontario and National Building Codes and regulations
• Knowledge of the appropriate use of building systems, materials, and technologies.
• Excellent knowledge of detailing, construction documents, consultant coordination and past experience with contract administration phase of projects.
• Experience with the procurement of furniture, fit-up and equipment tender packages in public projects.
• Ability to manage time, deadlines, deliverables and budgets on multiple tasks concurrently.
Job Duties include:
• Be a senior member of the design team during functional programming, concept design, design development phases of the project.
• Be responsible for coordination of contract documents of a multi-disciplinary team to ensure that stakeholder requirements are incorporated into the contract documents.
• Lead and document meetings with client stakeholders during the functional programming, concept design, design development and project takeover.
• Contract Administration and site supervision.
________________________________________
                             
HOBIN ARCHITECTURE                                                    
Core Values:   The Firm has developed a platform of core values which influence day to day practice:
We are looking for a talented individual who understands our Core Values and can strengthen the firm within their role.
• Design
If there is a single thread that ties us all together, it is design in all its forms. For us, design is not limited to physical beauty of the environments we create, but the problem solving that brings them into reality. We are passionate and committed to the art and the social impact of all that we do.
• Service
We have become a successful design enterprise because of our clients and our shared desire for excellence. Understanding the forces that shape their worlds—both personal and entrepreneurial is foundational to our mutual success.
• Collaboration
We believe that we reach our finest architectural expression when we think and design as a single entity, but value the unique input and skills of each member of the team. Through creative collaboration and open minds, we achieve a better outcome for our clients and our business.
• Workplace Culture
We work to make our office a supportive family environment. While the creative process focuses on the physical, people are at the centre of the enterprise. We believe that through a vibrant studio environment, nurturing individual talents, and providing fair compensation, we will build a design enterprise that will be sustainable.
• Community
Above all, we belong:  To a community of designers, place makers and city builders.  To a community of family, citizens and friends.  We feel a deep sense of obligation to share our resources, financial and professional, to support the community we value.  We may strive to create beautiful buildings and vibrant places, but we realize that for many in our community. life is fragile and challenging. We recognize our obligation to the broader concept of community.
We offer a competitive salary, group benefits, bonuses, RRSP matching and exciting office field trips!  
Please submit a cover letter, portfolio and resume outlining your skills, qualifications and relevant experience that make you an ideal candidate for the position to Sara Woolverton at swoolverton@hobinarc.com .
We thank all applicants for their interest in this position, however, only applicants selected for an interview will be contacted.
________________________________________
Skills:
3-D modeling: Advanced
3D design and multi-discipline coordination: Advanced