Monica Adair, MRAIC, AANB, LEED AP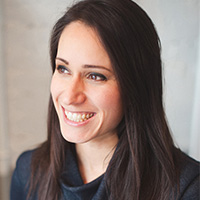 Ms. Adair, 37, is co-founder of Acre Architects in Saint John, NB. Her teaching posts include a Gerald Sheff Visiting Professorship in Architecture at McGill University in Montreal, where she received the Gerald Sheff Award for part-time teaching. She has also served on the New Brunswick Arts Board and currently sits on the Saint John Waterfront Development Board.
Ms. Adair holds a Master of Architecture degree from the University of Toronto. Prior to starting Acre Architects in 2010, she worked at Skidmore, Owings & Merrill in New York City and Plant Architect Inc. in Toronto. Most recently, she was at Murdock and Boyd Architects in Saint John where she was Project Architect for a hockey arena that won the Lieutenant Governor's Award for Excellence in Architecture in New Brunswick.
Acre Architects, which has seven full-time employees, took part in Migrating Landscapes, Canada's entry at the 2012 Venice Biennale in Architecture. Its projects range from houses, such as Mackay's Apple Orchard on the Kingston Peninsula to public installations such as In Transit in Saint John, and larger projects like Picaroon's Brewery in Fredericton. They are expanding beyond Canada with the Hekla Hotel in Brooklyn, New York.
Adair was featured on the W Network television series Majumder Manor after the firm won a competition to design a hotel in comedian Shaun Majumder's hometown of Burlington, Newfoundland.
Co-partners with spouse Stephen Kopp, Adair also works at melding family life and practice. Within their office is a designed space where they can bring their two sons to work.
Jury Comment(s):
In choosing Adair, the five-member jury cited the consistent quality of her project work, commitment to her hometown and her work in the arts community. They also recognized her teaching, advocacy, and contribution to regional collaboration in Atlantic Canada.
"She has an impressive CV containing significant academic and work experience for a young practitioner," said the jury.